With another 72 hour hall pass from my sweetie, I'm off on a whirlwind RTW First Class saga on some of the world's best First Class products... Lufthansa, Garuda Indonesia, Korean & Cathay Pacific.   Or as Mrs. SFO777 says, "Lots of flights to nowhere". 
The idea for this trip started some six months ago when Garuda Indonesia began offering really attractive London-Jakarta First Class fares.   Since Garuda is one my last remaining aspirational First Class experiences, I just had to find 3 days when Mrs. SFO777 wouldn't mind and I could get away.  So mid-November it is.  And MSP-based FlyerTalker batmandds is joining me in London for most of the trip.
The original idea was an overnight in Jakarta, some sightseeing and then Cathay First the next afternoon to HKG connecting to LAX.  The plan was scrapped when Cathay dropped First Class from the CGK-HKG route and substituted a dopey 2 class regional A330.  After some searching for alternatives, we opted for double Korean First Class flights instead of an overnight in Jakarta.  It's new Kosmo suites on both the 77W (CGK-ICN) and the new 748i (ICN-HKG) that sold us.  That and the price… only 45,000 SkyPass points for 11 hours in Korean First Class. And since I only needed HKG-LAX for the last leg, I was able to save 42,500 AA miles by using one of my old banked 67,500 mile AA award tickets for the Cathay First flight back home.  I added Lufthansa First as my positioning flight when M&M released an F seat about 4 months ago.   
Just before 2PM, I bid adieu to Mrs. SFO777 and headed for the Tollroad and the 405 to LAX.  Very little traffic this afternoon and I made the 59 mile trip in less than an hour.
Although Lufthansa is now part of PreCheck, what's the point?  They don't print PRECHECK on either mobile or home-printed boarding passes and require you to stop at the check-in counter.   The problem with that illogical decision is that there is no PreCheck at LAX TBIT.   So PreCheck is useless to LAX LH passengers unless you can access the PreCheck lanes at AA's adjacent T4. Not many pax are going to check-in at LH, then walk over to T4 just to walk back. Since I'm not checking bags, I figured that my best option was to buy a refundable AA ticket, use T4 PreCheck and then cancel the ticket from the lounge.  This worked great as I was able to make it from my car to the Star Alliance FCL in 17 minutes, even stopping for pics along the way.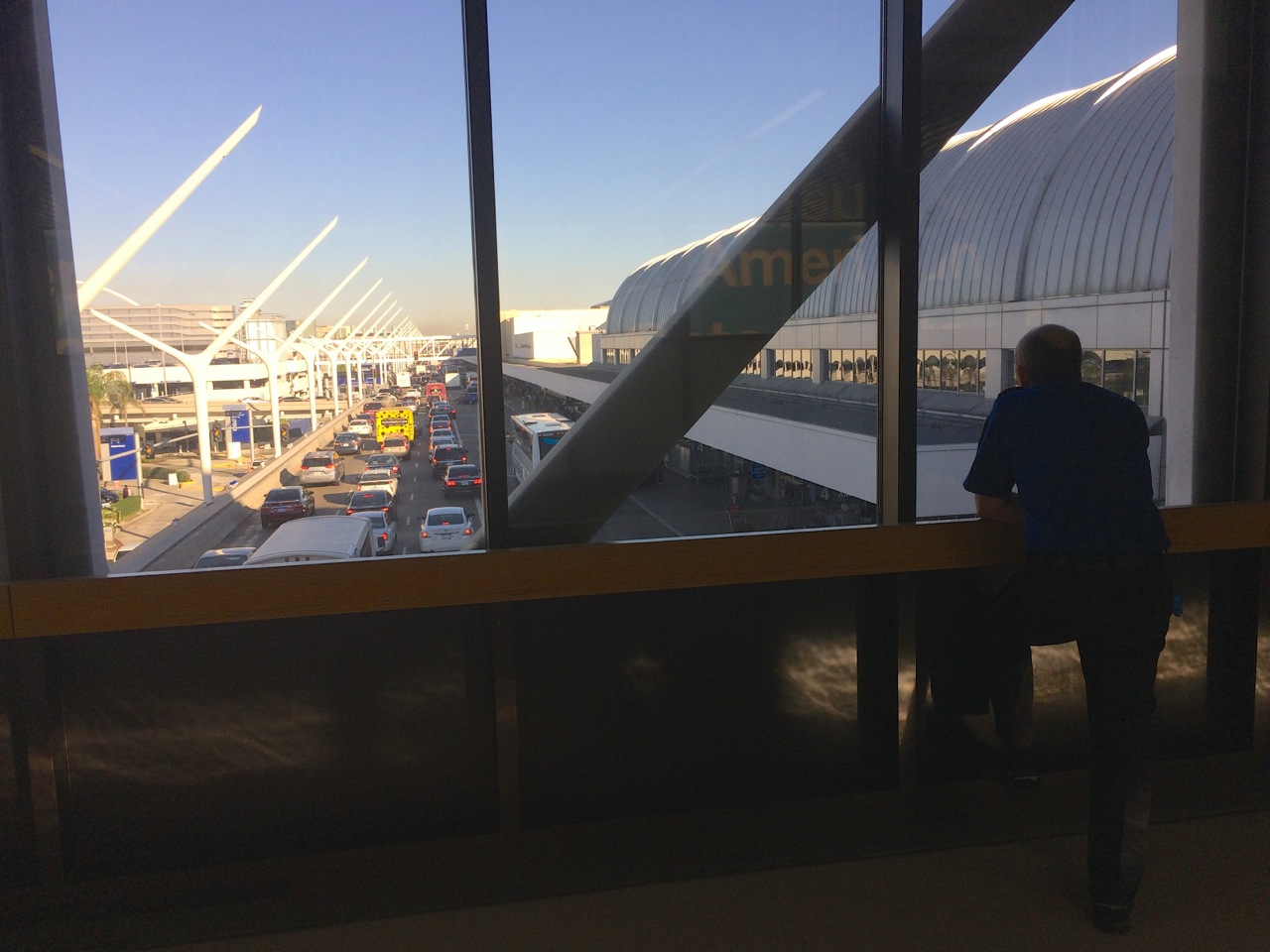 And finally the LAX Star Alliance First Class Lounge.   Second time here and it's a still a meh.  Small, uninteresting and with a pretty weak selection of serve yourself food.  They do offer made to order dishes from a menu but I wasn't really hungry at that point.
The Business Class Lounge is actually much nicer...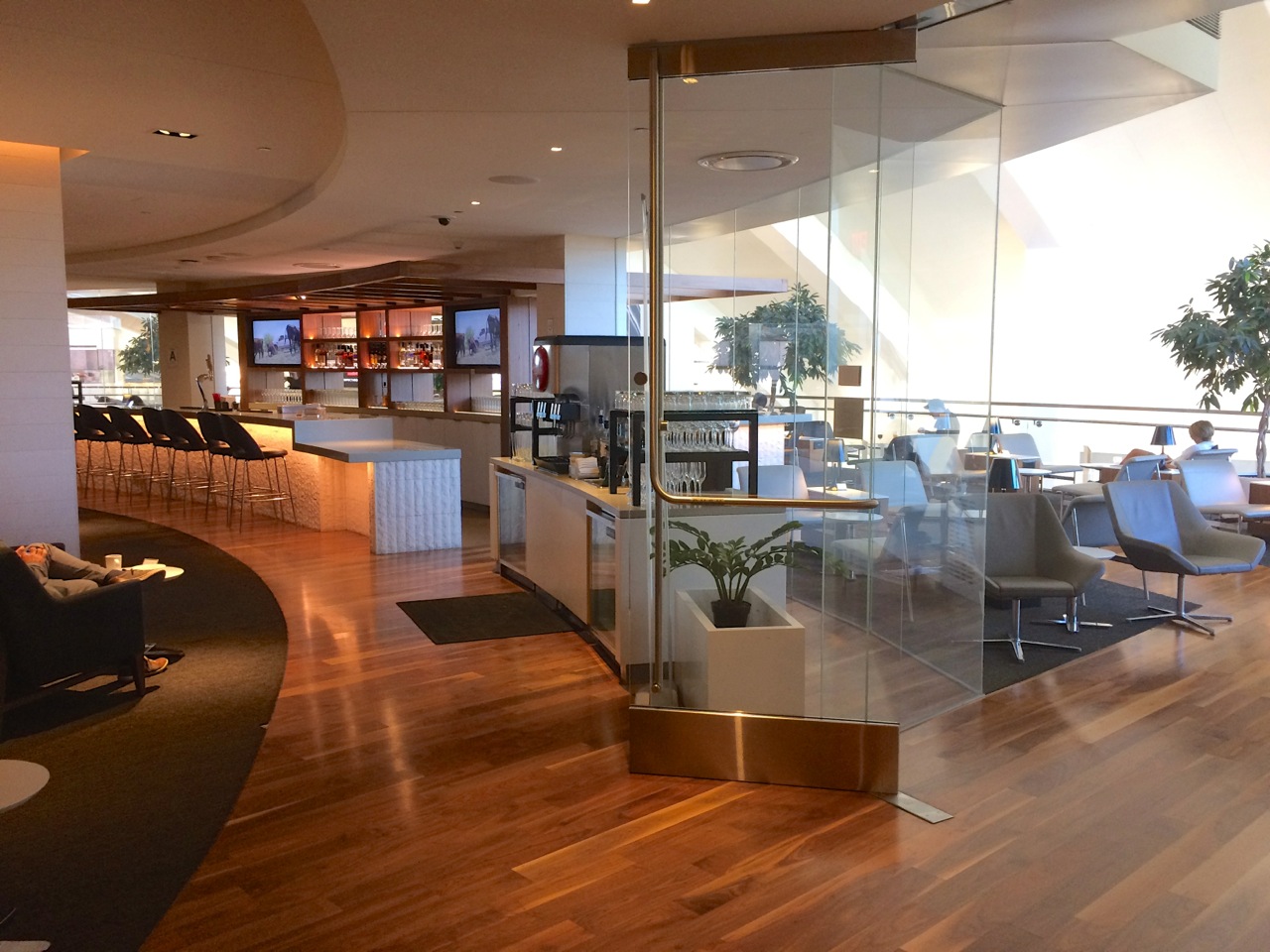 ... with open spaces overlooking the shopping concourse. 
How true this is!  LOL.
The Lounge includes a really cool outdoor terrace.
Even the serve yourself food offerings were better.