Morning buffet breakfast at House Without a Key.  Excellent food spread.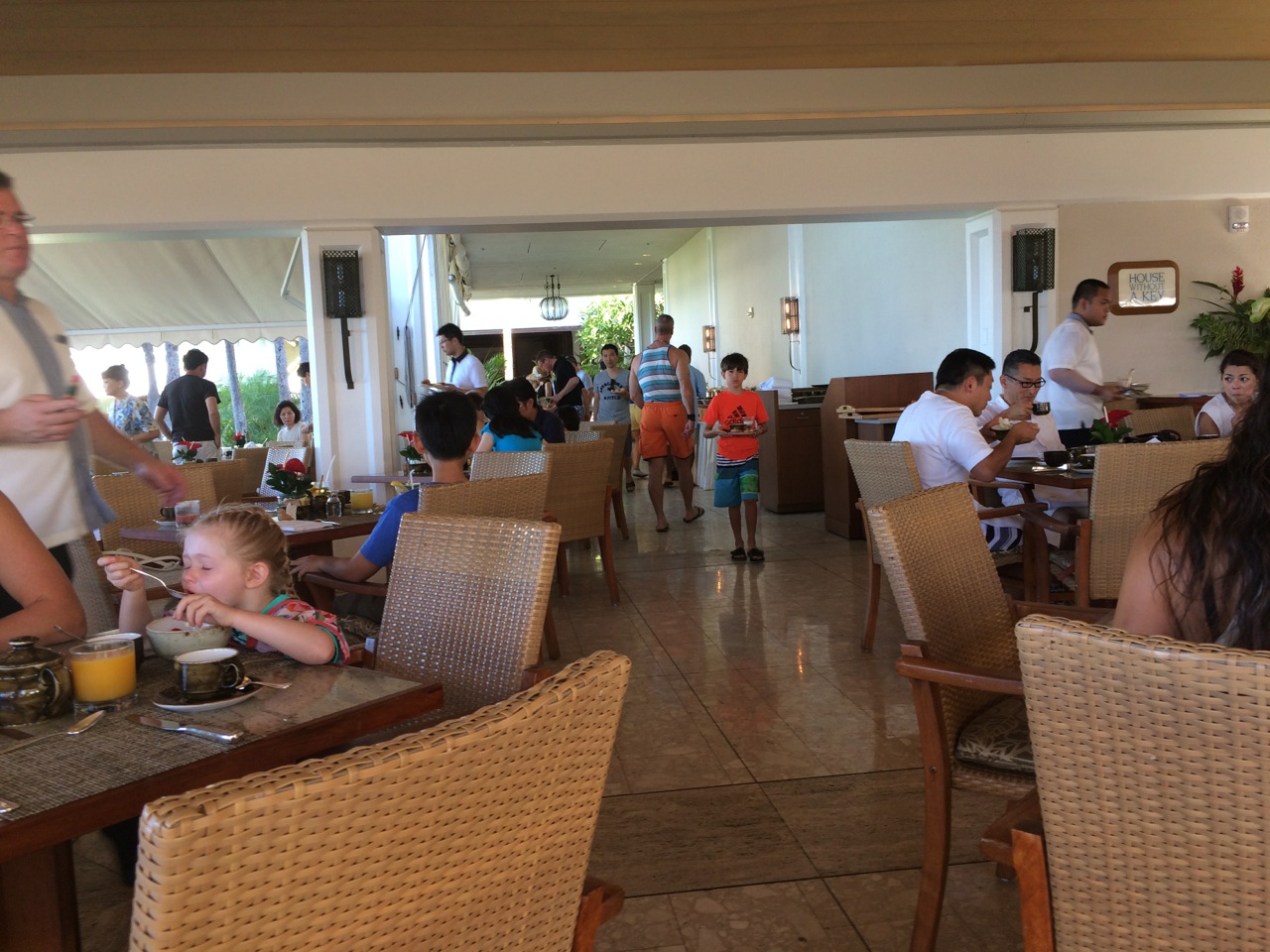 Back in the room, I finally found the thermostat. Sure, doesn't every hotel hide it in the closet??
And then back up to Mililani for the morning and early afternoon with the Hawaii ohana.  
We then headed to Ala Moana and the start of our day with one of our favorite chef's - Alan Wong.  
First stop was The Pineapple Room at Ala Moana.
The food here is still as amazing as ever but this place has started to look and feel dated. Service is spotty and not what it used to be. OK, 15 or so years ago when he opened the restaurant on the third floor of iconic Liberty House, it was pretty cool. But now just another Macy's outpost, this place needs a major makeover. We first thought to just eat at the bar but the stink from the bar sink was so bad that we bagged that idea and just waited for a table.
Once seated and once the food started coming, all was well and we thoroughly enjoyed it, dumpy Macy's notwithstanding.
We split the Asian Salad Asian Salad with Won Bok, Snow Peas,Carrots, Cilantro, Won Ton Pi, Roasted Peanuts, Soy Vinaigrette... which Mrs. SFO makes at home from her Alan Wong Cookbook.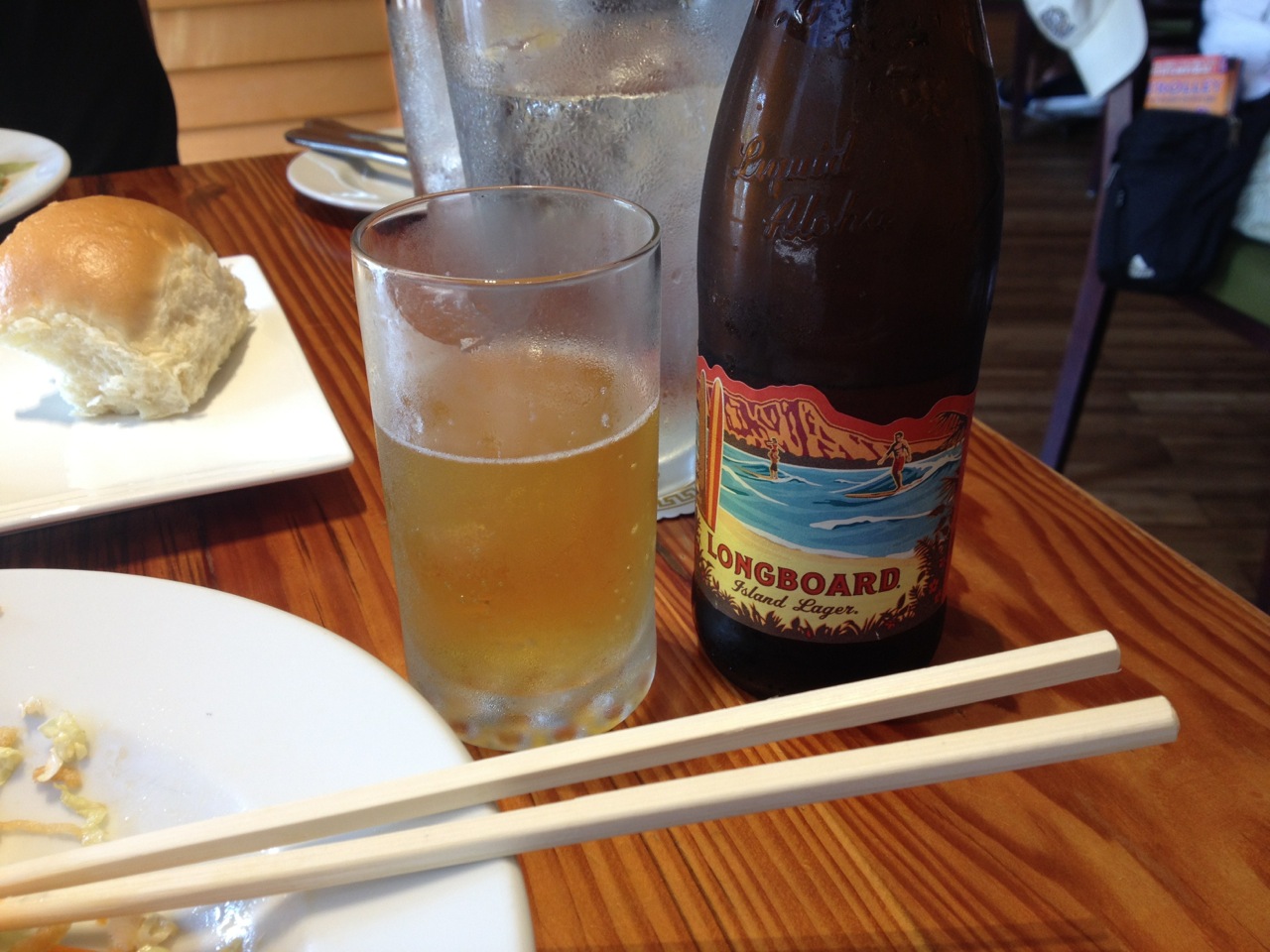 For our mains, Mrs. SFO had the amazing Shrimp Pork Hash Katsu Burger with 
Shredded Cabbage, Hoisin Mustard Vinaigrette, Potato roll. O-M-G fabulous.
While I went with the Kalua Pig BLT with Onion Bun, Half Caesar Salad, Bacon, Grilled Kabayaki Onions, Boursin Cheese. Out of this world.
Then off to hit the Apple Store and Tumi and some more of the once again under renovation Ala Moana Shopping Center.
And then back to Halekulani to rest up for round 2 and dinner. 
Just before 8PM, we Uber'd over to King Street and the original Alan Wong's. Sat at the bar for a while where we met one of Alan's fellow Hawaiian restauranteurs who splits his time between Honolulu and... Birmingham, Alabama. I kid you not. Went to school and played football for Bear Bryant, apparently loved it and stayed at least part-time. Go figure.
As always, we both had the wonderful traditional tasting menu of classic signature Alan Wong dishes.
With a fabulous 2012 Raveneau Chablis.
To start, the "Soup and Sandwich", Chilled Vine Ripened Tomato Soup, Grilled Hawai'i Island Goat Dairy Mozzarella Cheese, Foie Gras, Kalua Pig Sandwich.
Chopped Ahi Sashimi and Avocado Salsa Stack
Stacked on Crispy Won Ton, Spicy Aioli and Wasabi Soy
Keahole Lobster Lasagna with Crab Cioppino Sauce. Out of this world.
And one of our all time faves: Ginger Crusted Onaga, Long Tail Red Snapper with Miso Sesame Vinaigrette, Mushrooms and Corn
Twice Cooked Short Rib, Soy Braised and Grilled "Kalbi" Style with Chili Lemongrass Goat Cheese, Mushroom Peanut Salsa. Simply wow.
And to finish, one of my all time favorite desserts... Alan's Signature The Coconut, Haupia Sorbet in a Chocolate Shell, Tropical Fruits, Lilikoi Sauce.