Emirates New First 77W Suites
When Emirates announced their new First Class suites last fall, they did so to much fanfare and hype touting it a "game changer".   It is indeed that and more.  Unfortunately, New First Suites are currently only on two routes to and  from Dubai... Brussels and Geneva.   With a planned ex-Cairo mileage this month, I tried to find the most reasonably priced option to anywhere close to Cairo and decided on Amman and BRU-DXB-AMM.   After arriving on Lufthansa earlier in the day and spending three hours in two mediocre BRU lounges, fellow Flyertalker batmandds and I headed to our gate at T-50.
Brussels BRU to Dubai DXB
Emirates EK 184
777-300ER
2:35pm-12:30am +1
February 18, 2018
Departed 6/6
Suite 1E and then 2A
The wait seemed like an eternity, but 15 minutes after we arrived at the gate, boarding was announced.
OMG.  This is gorgeous.  Simply spectacular. 
Service was marvelous today, starting with a little Dom.
The two inside suites have simulated windows with a live HD feed of the outside of the plane as if you were actually in a window suite.  But incredibly, the view seems even better than the real view. 
The HDTV screen in each suite is bigger than anything I've seen on any other plane.   And with twin minibars flanking the screen. 
The suite is incredibly spacious and well designed, with a luggage closet...
... and wardrobe closet with pocket shelves for binoculars, headset and inflight magazines and entertainment guide.
Talk about legroom!
The view from my inside "window".
There are multiple contol panels in each suite.   The one controls lighting, color palette and temperature.  It even tells you if the lavs are vacant or occupied.   Each suite has multiple air vents with the ability to control the temperature in your suite.  
And an array of lights and lighting intensity options...
... ceiing lights...
... and floor lights.  Even the color of lights.   More on that later.
We had the First Class cabin to ourselves for 20 minutes before a family of 4 arrived.    While the novelty of the inside suite seemed cool when I selected 1E, I was happy to accomodate the family by moving to 2A so dad in 1A could communicate with his young daughter in 1E.
No old fashioned call button.  You can voice call or video call your flight attendants, even though they are less than 20 feet away. 
You can contol the color decor in your suite at the touch of a button.   This is more dramatic at night are you'll see later.
Still at the gate, the traditional pre-departure dates and Arabic coffee.
One of the three air vents in each suite.
The entertainment controller at your fingertips.
Today's menu...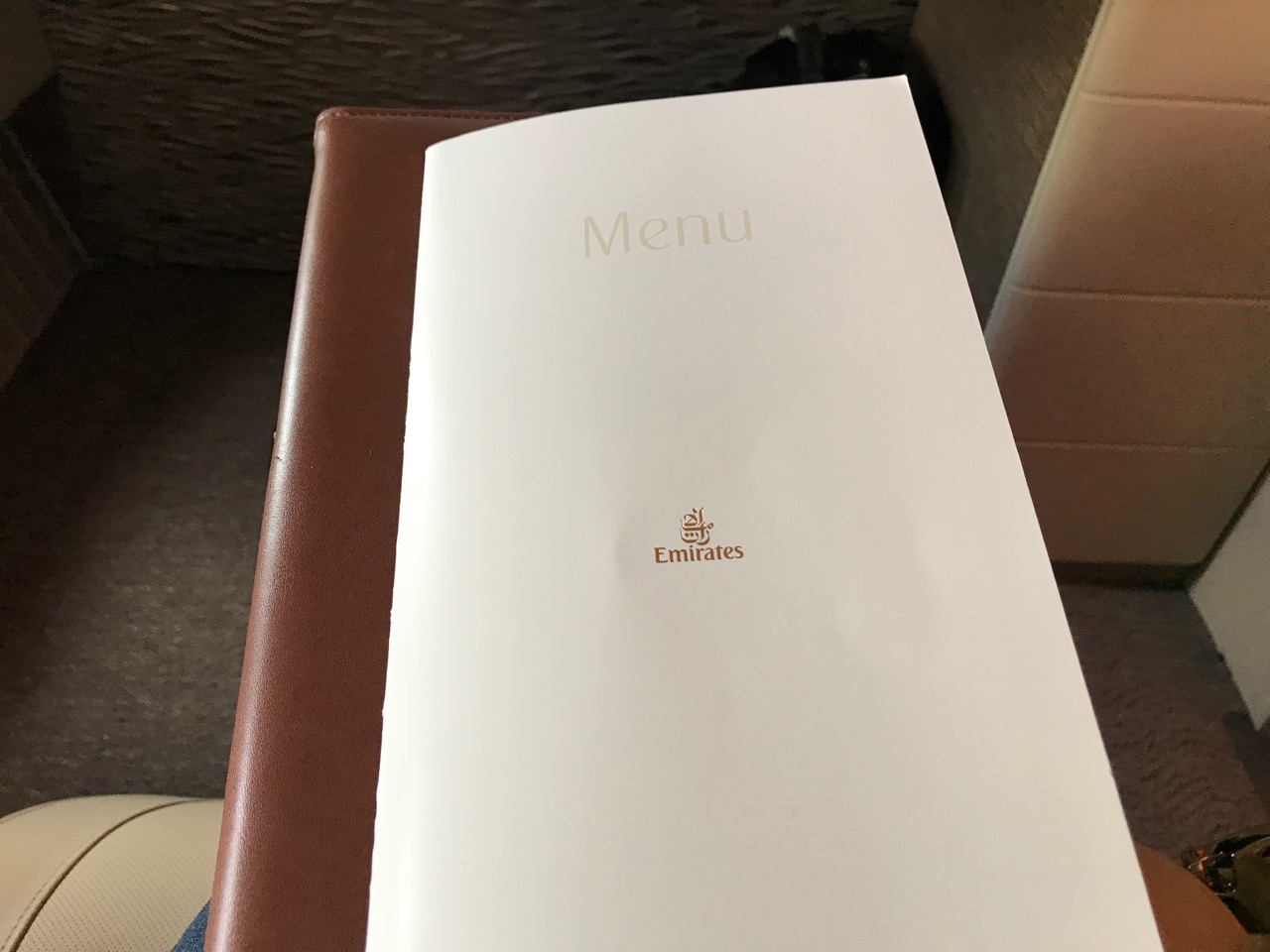 ... and amazing wine list.
And we're off, pushing back on time.
Our live very HD video feed on our short taxi out for take off. 
Getting ready for showtime, a huge pull out tray table.
Our FA delivered a snack basket.
... drinks and nuts.
Showtime, Emirates-style.
I started with the delicious Lamb Medallions with Balsamic Glaze, minted couscous and asparagus.
And the fabulous and huge fresh seasonal salad.
For my main, I chose the Poached Salmon with horseradish, sautéed vegetables and steamed potatoes with dill.
I was so full after dinner, I passed on dessert... although this doesn't count, right?
Another cool feature of the suite is complete privacy with ceiling to floor doors, with a small door so your flight attendant can serve food or drinks without opening the main door.
There are two lavs at the front of the cabin for 6 First Class Suites. 
Simply gorgeous.
With a serve yourself snack cart, just in case you're hungry on your way back to your suite.  Ha.
By the time I got back to my suite, my fully made bed.
Amazingly comfortable.
After a 90 minute nap, on descent to DXB.
Here are those suite color options, pretty cool at night.
More incredilbe live HD views as we land.
After a short taxi, we pulled into our arrival gate, or rather our arrival stand.
Although pretty convenient with a dedicated, luxurious bus for only First Class passengers.
Now that's a bus.
A few minutes later, our bus dropped us off at the tarmac entrance to the B gates.
What an amazing day.  Emirates has raised the bar for luxury travel with what they call a Game Changer.  It is all that and more.  This is the absolute best First Class cabin in the sky.  Unfortunately, Emirates only flies this on two routes at the moment and have firm plans for a limited conversion of its 77W fleet.  Hopefully, they will change their strategy and implement a more aggressive expansion.