Mrs. SFO and I are off to Istanbul this week and I decided to use our 2-4-1 Chase BA miles for the SFO-LHR leg, the BA strike notwithstanding. Even though I had a *A back-up reservation including LX from ORD-ZRH, dinner at Maze and fifth row seats to Tuesday's Thriller Live won out at the last minute over a double connection and I decided to stick with BA. Surely, BA wouldn't short change First Class service, would they? OMG, how wrong I was. What a huge disappointment, and not just related to the strike.
Even though I OLCI'd at home, we stopped at the First check in counter for new BPs and doc check. Security was a breeze as the Premium lane was open with only a handful ahead of us.
Strike or not, the only redeeming feature about the SFO Terraces Lounge is direct boarding from the lounge to the jetway. Spartan entrance, small First Class lounge with the same limited selection of serve-yourself food and beverages set-up as in the Business class lounge. Does BA really think that First pax are craving smoked salmon/boursin and ham/pickle/cheese sandwiches? I never thought I would say this, but UA's IFL at SFO is infinitely superior.
The First Class portion of Terraces...
Our 744 from the First Class lounge...
The Club World portion of Terraces...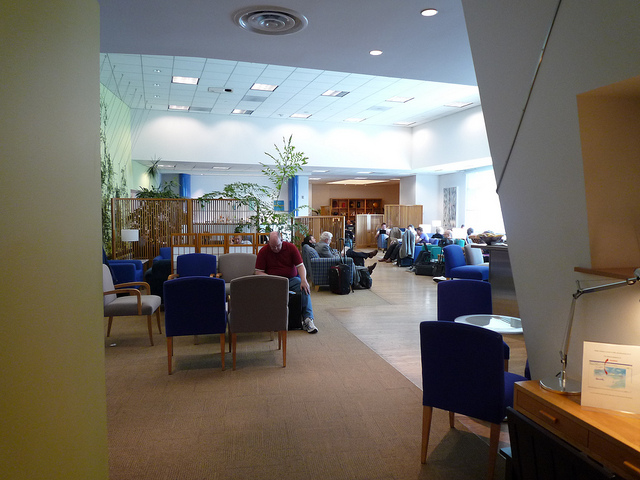 At T-40, the lounge dragon came into the lounge and announced boarding which was through a door opposite the check-in desk, directly from the lounge to the top of the jetway. FA greeting at the door of our 744 was pleasant although lacking personal greeting or interaction, understandable with a short-staff.