Mrs. SFO777 and I are off today to Norway and then to Paris for a birthday dinner at my favorite Mexican restaurant. What, doesn't every go to Paris for Mexican food?? 
A whole bunch of firsts this trip… Norway, United Dreamliner, SAS/Privatair on the longest 737 flight in the world and Air France's celebrated new La Première service.  
• United First Class 787 Dreamliner Denver-Houston
• The Executive Lounge at IAH
• SAS (Privatair) All Business Class 737 Houston-Stavanger
• SAS Business Class Stavanger-Bergen
• Clarion Collection Hotel Bergen
• Bergen
• Fjord Tour by Helicopter
• Fjord Tour by Train, Bus and Boat
• The Bergen-Oslo Train 
• Hotel Continental Oslo
• Oslo
• Lounge at OSL
• Air France Business Class Oslo-Paris
• Shangri-La Paris
• Paris
• Air France First Class Lounge at CDG
• Air France La Première 77W Paris CDG-JFK
• Delta First Class JFK-Boston
• United First Class Boston-Denver
After a stop at the United counter to check-in Mrs. SFO who just received her new passport, we headed to B32 and the United Dreamliner which had arrived earlier in the day from Narita. Boarding started less than 5 minutes after we arrived.
Denver-Houston
United 1905
787-800 Dreamliner
3:05P-6:23P
September 12, 2015
Seats 5A and 5B
The now familiar United gate lice scene and lots of pax in Group 1 line especially with 36 First Class (aka Business First) seats.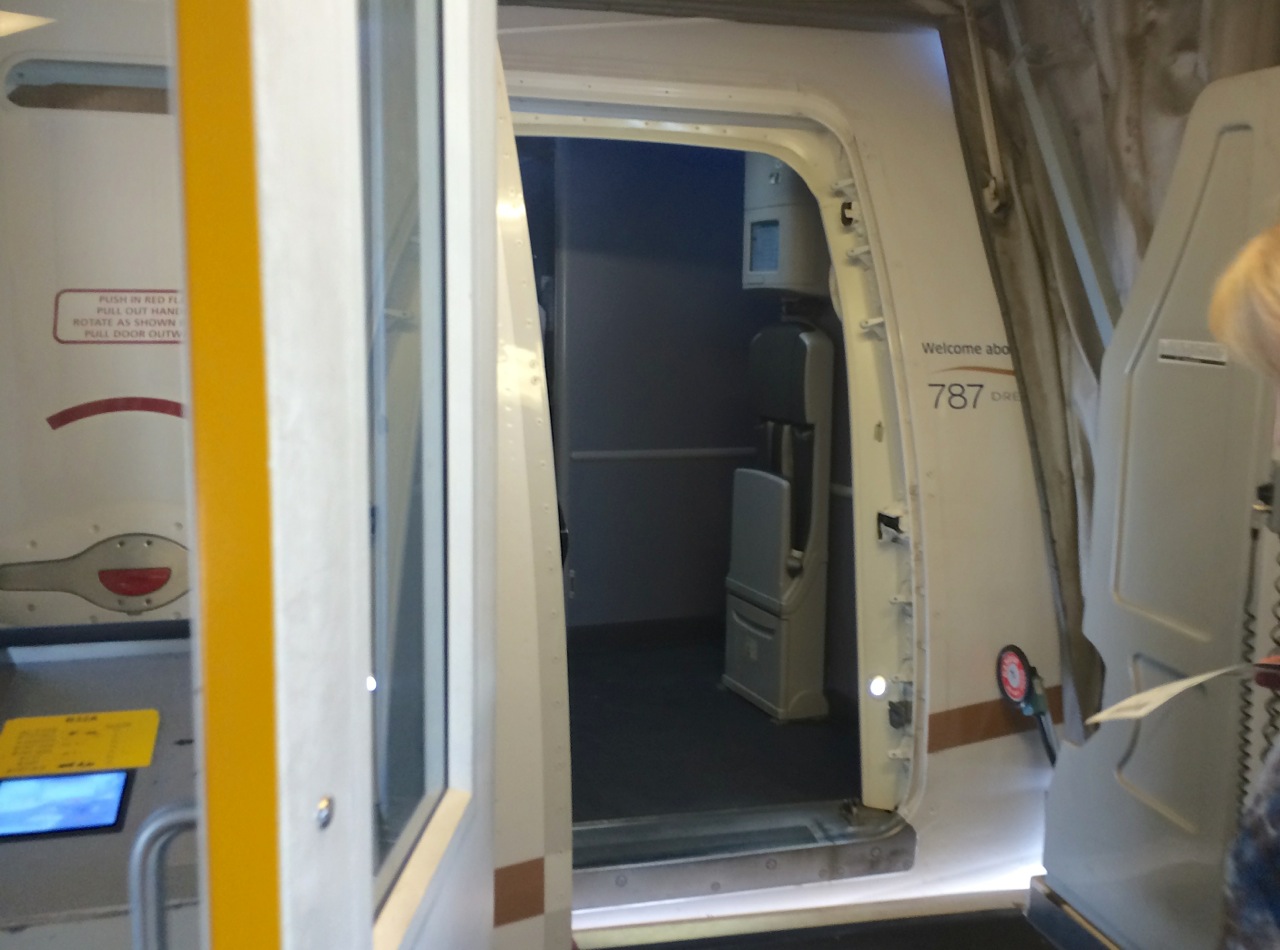 United's 787s have 6 rows of Business First, 3 rows in the forward cabin and 3 more rows in the second cabin.  
Our seats 5AB in the second cabin. Comfy seats and wonderful space for a two hour domestic flight.
Open bar pre-departure beverage service.
Oops, someone forgot to tell the IFE folks that Rainey quit last month, moving to PayPal just before all the fun started.
Back to the forward cabin.
And in the second cabin section of Business/First.
Prior to departure, the usual welcome from the captain including this gem "… We have an excellent group of Houston-based flight attendants who will take care of you Continental style…" Hmmm, apparently still bitter after 5 years.
OK, it's no CX or EK but a pretty good IFE system with an reasonable selection of movies.
Good service at the outset, but then our FAs disappeared and forgot to come around offering a second round of drinks.
Very cool 787 wing curvature.
Large lav by UA and AA standards.
All in all, an most enjoyable two hour flight. UA's 787 front cabin is much different from AA's 1-2-1 version. As a solo passenger, I think I prefer a rear facing window seat on AA. But for a couple, UA is much better. And UA's seats do not suffer from the same design flaw as AA where you feel any movement from the passenger in front or behind.  
We arrived a few minutes early at far out E22 and decided to have a proper dinner, not wanting to rely on unknown lounge food. We headed to Iron Chef-famed Cat Cora's Kitchen in the E concourse.  
We split a couple of delicious dishes.
And then off to the D concourse.
And the contract Executive Lounge where friendly SK agent at the front did the doc check and issued our boarding passes. Nothing luxurious but a spacious and comfortable Business Class lounge with a surpassingly varied selection of food. The brownies were very good!
Our SAS Privatair 737-700 or at least the tail of it. Tough to get a good pic at D5.