We were welcomed on board by one of the many lovely Pan Am stewardesses on today's flight.   With CEO Talaat Captan just behind her.
The nose of the 747.  A far cry from today's international First Class seats but very comfy in its day.  This is where I had really hoped to sit and would recommend to a couple, but tickets were sold out
The Upper Deck which was more of a party atmosphere and a lot less comfortable seats for a three hour visit.
Our private 2 person seating table.
The Pan Am experience is part restaurant, part theater, part comedy show with each of the "stewardesses" able to perform and connect with the passengers.  And lots of hilarious announcements throughout the evening.  And enjoyable 70's music although the speaker right over Mrs. SFO777's head made our seats not the best choice.
And the magazine cart...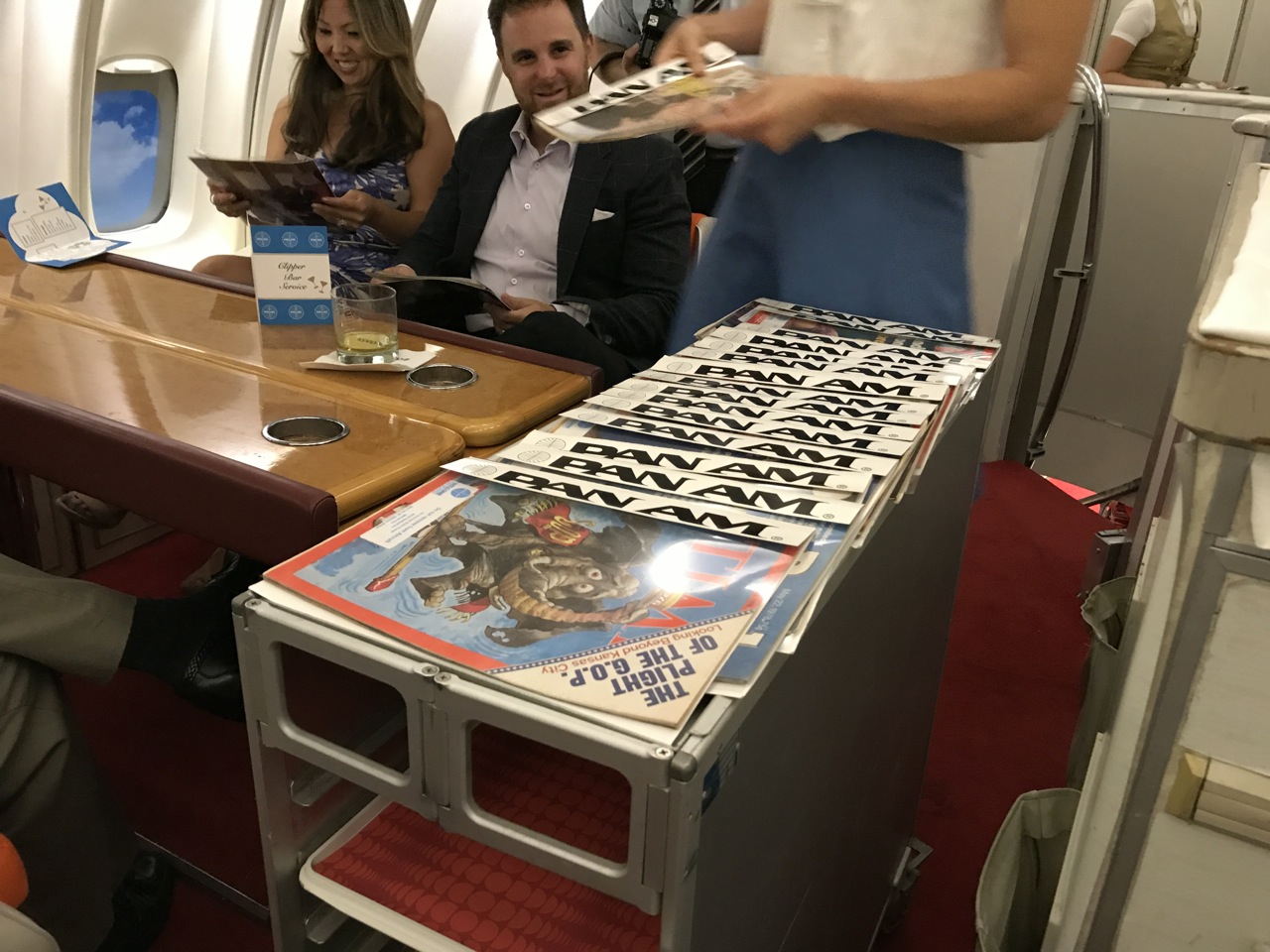 ... with vintage 1977 period magazines.
With the tobacco industry the biggest advertisers back then.
And Allegheny Airlines, flying as far west as Minneapolis and St. Louis!!
Drinks and nuts to start...
Our Purser presenting the menu.
Showtime, Pan Am style.
Cool hot towel service with dry ice.
Caviar service.
With chilled vodka.
Between courses, one of the many fashion shows with our stewardesses wearing Pan Am uniforms thru the ages.
And offering prop cigarettes.  LOL.
During a pause in service, I popped downstairs to take some pics of the front cabin...
And Clipper Class, which looks far more comfortable than today's slimline Economy seating
Back upstairs, a pic from the flight deck.
And ready for the main show with Chateaubriand carved tableside.
Yes, perfectly prepared.
And another fashion show of vintage Pan Am uniforms.
Even a "Duty Free" cart.
By this time, Mrs. SFO777 had pretty much had enough of the Pan An experience especially in the uncomfortable lounge chairs.   So we had a little fruit and cheese...
... and left before dessert as we had a 90 minute drive back to The OC.
For an airline geek, this is a really cool experience and one I would highly recommend.  For the non-geek, not so much.  The meal drags on a little too long especially in the somewhat uncomfortable lounge seats on the Upper Deck.  And neither the food nor wines are that memorable.  Mrs. SFO777 reached her limited about mid-way thru.  If you are interested in visiting, unless you are going with a group of friends, I would recommend holding out for the Lower Deck First Class seats which are going to be far more comfortable for a 3 hour event like this.
For more information on this fun experience, visit panamexperience.com.