After lunch, we took a taxi to the Evita museum which was only open Sunday during our stay. Even today, Eva Duarte Peron still evokes passion amongst Argentines. There is apparently no middle ground here.
Back to the hotel and then out to dinner later that night, to the beautiful Puerto Madero, a trendy renovated port area, with restaurants and bars.
To El Mirasol for a fabulous dinner. Tempting but we passed on the testicles. BTW, these prices are in Argentinean pesos, about 6.5 to the dollar on a CC or 8.5 to the dollar when paying in USD cash.
One of the best rib-eyes anywhere!
Back to the hotel for a nightcap.
And breakfast the next morning before our driver and guide met us for our first full day in BA.
We met our guide Anna at around 10AM and headed out into the heat and humidity for day 1 of our tour of Buenos Aires, starting with nearby
Basilica de Nuestra Senora Del Pilar (Our Lady of Pilar) apparently the first church in Buenos Aires.
Le Recoleta cemetery, one of the most beautiful cemeteries in the world. The 15 acre site contains nearly 5,000 vaults with many elaborate marble mausoleums decorated with statues in a wide variety of architectural styles. The entire cemetery is laid out in sections like city blocks with tree-lined "streets" filled with mausoleums.
Most have a basement where coffins and remains are stored if there is not enough room on the main level.
Many famous Argentines are buried here including Eva Peron. Today, all you need is cash as the mausoleums are bought and sold like real estate. The one next to the Duarte family mausoleum has a for sale sign... asking price US$500K.
On our way to Palermo.
Hipodromo de Palermo, elaborate horse racing track and buildings.
To the tony Palermo residential neighborhood.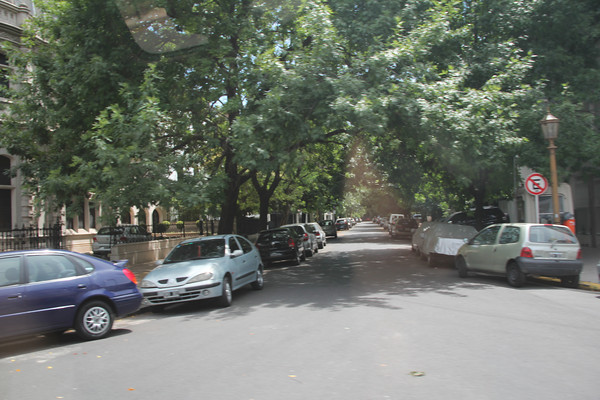 And a short distance away, lots of interesting shops, restaurants and bars.
And great people watching.
And a stop for coffee and pastry.
El Ateneo, popular bookstore in an old, beautifully restored theatre.
And then a great lunch at Oviedo and two bottles of wonderful Rutini Chardonnay.
Tonight we are off to dinner and a tango show back in the trendy Puerto Madera area.
And one of many protests that seem to be a regular activity here.
Rojo Tango at the chic Philippe Stark designed Faena Hotel in Puerto Madera.
Dinner was delicious.
And the tango show was wonderful.
On Day 2 we headed out down the street to check out some interesting buildings, like Ralph Lauren's home until the Argentinian government insisted he manufacture in Argentina. Shocker, he apparently no longer has a home anywhere in Argentina.
Run down place next to the Park Hyatt.
And the swanky Park Hyatt Buenos Aires.
Our tour continued with a short drive.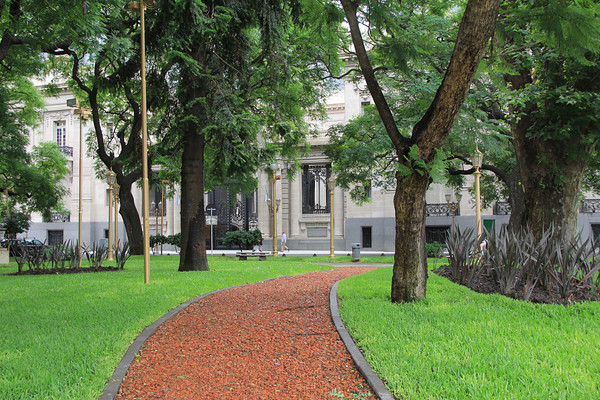 Teatro Colon.
Across the street to Plaza de Mayo
OK, this may be fun but it seems just a tad unsanitary.
And yet another protest.  According to our guide, this one a group of Falklands War recruits that were never sent into battle.  Apparently, they want the same compensation as those that actually saw battle. 
The Pink House.
And more interesting people watching.
Next, we drove over the to old BA ghetto, colorful La Boca where Italian immigrants first settled. 
And back to our hotel neighborhood, another great lunch... at Fervor.
And later that night, the gala black tie New Years Eve celebration at the Alvear Palace.
Part of the elaborate pre-dinner spread.
And the ballroom scene with full orchestra playing big band mostly Glenn Miller songs.
And the tango show.
Happy New Year!