Swiss First Class Chicago-Zurich
Swiss 9
ORD-ZRH
A330-300
February 2, 2013
7:10P-10:55A +1 (scheduled)
7:05P-9:58A +1 (actual)
Departed 4/8
Seats 2DG
Boarding had indeed begun by the time we arrived at M7. But the priority line and relatively few pax in the jet bridge meant we were on board fairly quickly. But again, 2L was the only door LX was using for boarding. What is it with LX refusing to use 1L for separate F boarding?
But once in the cabin, all was forgiven, or at least filed away until. I wasn't sure about the cabin on our first A333 flight, but I am warming to it a bit. The seat comfort controls worked a little better than last time and I was able to contour the seat a little better. But it is still not that comfortable IMO.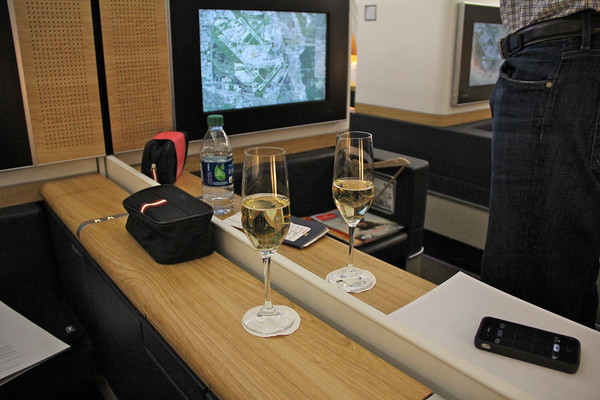 The crab cake with remoulade amuse-bouche was very good.
Champagne was OK, but not the Grand Siecle. FA gave the same lame "problem with customs" company line as we received in LAX last month. Just pay the duty and serve the Grand Siecle.
The LX map feature is pretty cool, especially GPS over an actual satellite map at the airports.
Once in the air, our crew went into action.
And showtime...
Tonight's menu was exactly the same at our late December LAX-ZRH flight, which we loved. Perhaps a quarterly rotation?
But unfortunately, the same uninspiring wine list with way too many Swiss wines.
But the solution was easy... more Grand Siecle.
The Balik salmon and lobster cocktail were delicious.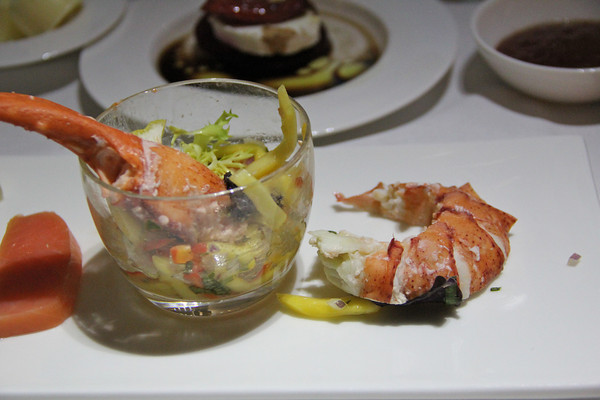 Roasted beetroot and goat's cheese timbale not as good as x-LAX.
Pumpkin and aniseed cream soup was very nice.
Delicious seasonal salad with bacon and Parmesan, in an Italian vinaigrette.
But the best dish of the night was the fabulous wild mushroom ravioli with sage cream sauce.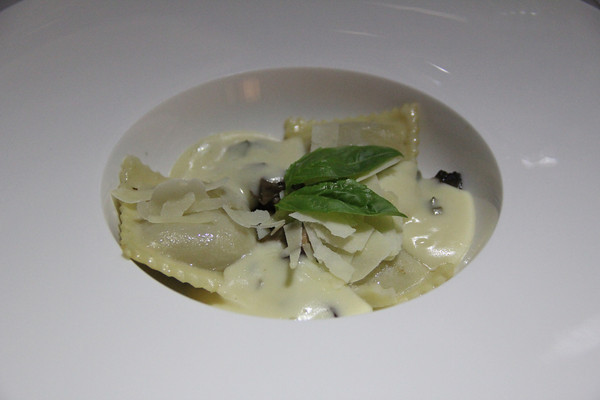 My grilled beef tenderloin (with green peppercorn sauce, fettuccine, glazed carrots and broccoli) was excellent but not as melt in your mouth as five weeks ago.
The tiramisu was one of the best I have ever tasted.
And is if we hadn't had enough to eat, our FA left the entire box of Sprungli chocolates.
And now to the boys' sophomoric entertainment for the evening. Looking at today's movie selections, I noticed Sophie Marceau's new movie. Many of us got our first look at Sophie in 1999 when she starred as the Bond Girl in "The World is Not Enough". Now in her mid-40's, Sophie is still pretty hot, even to mid-30s SFOjr.
"Un bonheur n'arrive jamais seul" is a funny romantic comedy with co-star Gad Elmaleh. Much to the delight of the neanderthals in 2DG, the movie features a lot of Sophie... with and without clothes, and in and out of bed. Much of it is fleetingly, unless one is juvenile enough and determined enough to pause, rewind and pause again at the right point. Using the LX IFE pause/rewind feature and after copious quantities of alcohol, our quest for the perfect Sophie pic became a funny game. Eventually, we did hit the perfect guy's pic. 
And a PG rated pic for the masses.
With tonight's cabin mates in 1DG and no one else in row 2, our FA made up 2A for me and I moved over for a couple hours of sleep before breakfast and arrival.
Still stuffed from dinner, I opted for a light breakfast just before landing.
Pretty Swiss countryside just after an overnight snow.