Swiss First Class Zurich-Delhi
We arrived at the gate area at about T-35, cleared another passport/visa control.
And boarded five minutes later after fighting thru Euro gate lice Y pax who clogged the boarded area.
Swiss 146
ZRH-DEL
A330-300
February 3, 2013
12:45P-12:45A +1 (scheduled)
12:45P-12:30A +1 (actual)
Departed 3/8
Seats 2DG
Almost had the entire cabin to ourselves tonight as only one other pax joined us, in 1K. Friendly crew welcomed us on board and a few minutes later, we had champagne and the our pre-departure amuse bouche... the current x-ZRH New potatoes with Vacherin Fribourgeois cheese and dried venison sausage. Wow, was particularly pungent (aka stinky) today that we both wondered whether it was our feet or the cheese we were smelling. A few bites and we asked the FA to remove.
Since we had our choice of seats, I moved over the 2A for push, taxi and take-off... and lots of great pics.
Interesting training DC-8 off to the right of Runway 16
Right after take-off, our FA jumped into action. With the same old uninspiring wine list, I went for beer, especially since I was going to have the Indian main. The Swiss Quollfrisch was very good.
Even though our first LX meal was 8 hours ago, the thought of another 7 course meal was too much.  So I opted for a much more modest 4 courses.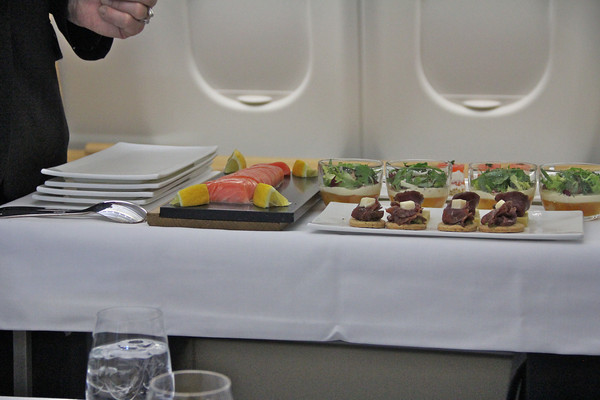 Delicious green salad with bacon, eggs in a vinaigrette dressing.
The red curry lamb dish (sorry, couldn't find menu) was excellent and a nice introduction to our next week.
The Indian dessert was delicious.
And of course the Sprungli chocolates.
Almost there.
And so our 16 hour LX trip comes to an end. As usual, outstanding inflight food and service, some of the best I've experienced. But, other than the Grand Siecle and maybe the Chablis, the wines are sub-standard. IFE is good but the old control system not very responsive or user friendly. And after three long haul A333 flights, I've decided that the seat is not that comfortable for me, certainly not when I compare it to LH, KE or CX. Indeed, the seat alone might dissuade me in future. But the clincher is the ZRH ground experience. Compared to LH in FRA/MUC, it's just not in the same league.