Al Safwa First Class Lounge at DOH
From Gate A3, it was a short walk thru an empty concourse to the main central terminal complex of shops, restaurants and lounges.
HIA's huge showpiece signature teddy bear.
Stunning architecture as we wander around trying to locate the Al Safwa Lounge.
The relatively new terminal is a pleasure to visit but signage leaves a lot to be desired.   Major directional signs show directions to First Class Lounge which just turned us in circles.  The only explanation I can think of is that there is a generic First Class Lounge for all but Qatar.
The gorgeous Al Mourjan Lounge is still where is was three years ago.
Even with directions from the Al Mourjan sentry, it still took another 5 minutes to find the promised land. 
Talk about an impressive entrance.
The Lounge is huge, indeed mind-blowingly large with numerous wide corridors.  It's not particularly warm lounge though.  It kind of reminded me of a modern museum but without the art.
There is also a convenient and secure check-room behind the inside First customer service counter, where we left our carry-ons during our visit.
I set up shop in what is arguably the nicest Business Centre of any airline lounge, anywhere.
​
And one of the most gorgeous restrooms in any lounge.
The bar and dining area is huge, sleek and modern but not very personable or intimate.
With a selection of serve yourself and/or serve for you counters.  You can also order off the menu.
We headed for the bar.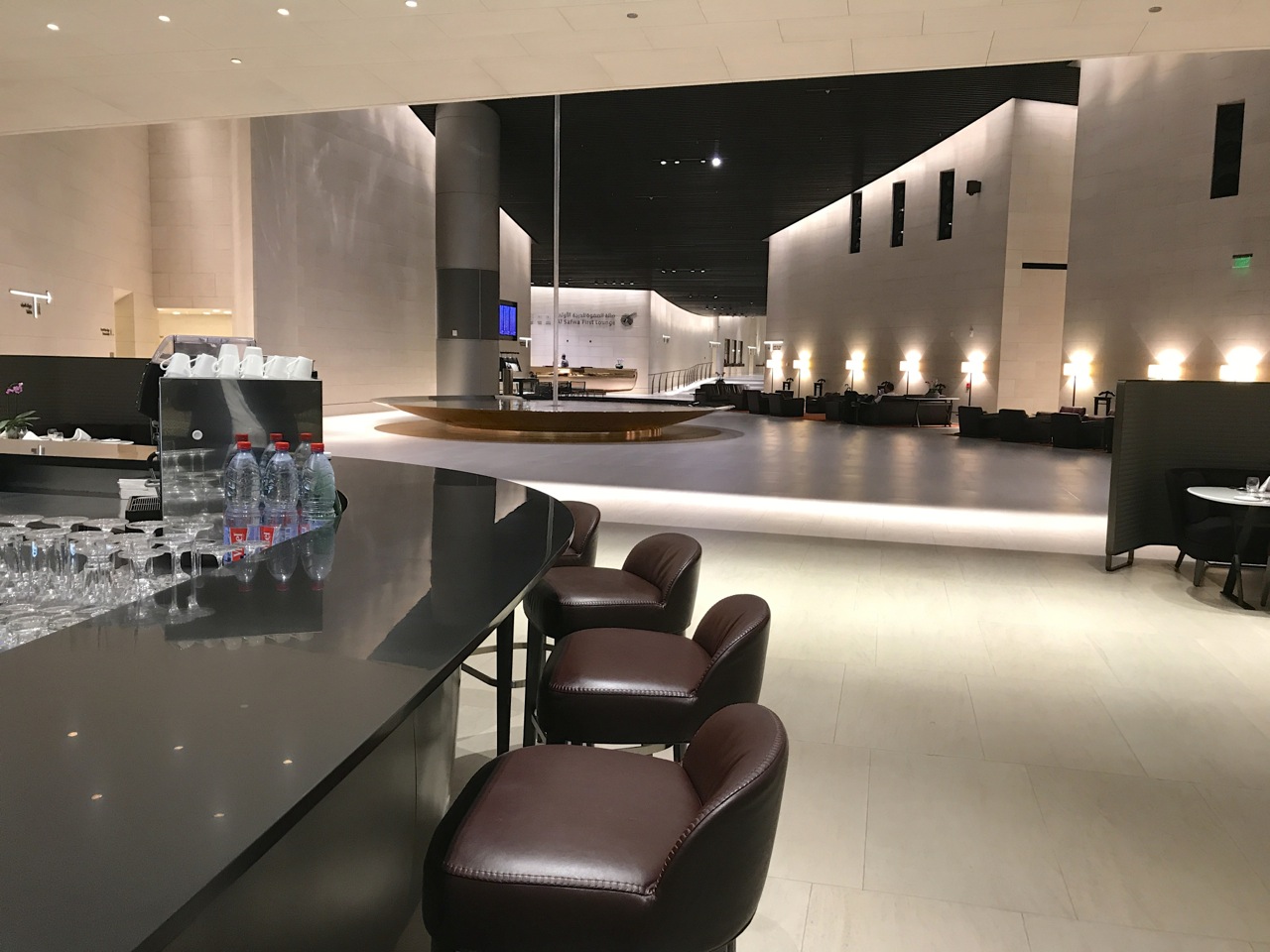 Are you serious?  The house champagne is the La Grande Dame.  Wow.
And Showtime, Al Safwa style.   The menu was lovely but I forgot to take a pic.  My bad.
Our starter was excellent.
And the pasta dishes simply out of this world.
And you everyday bottle of wine that you will not find served at your government subsidized Sky Club.
OMG, I don't think I need to eat on our Doha-Guangzhou flight.