JAL First Class Satellite Lounge
With no Air France like Personal Assistant to meet us at the door, we made the long walk to Transfer security.
And eventually found a JAL First Class Lounge that I never knew existed.   We were fortunate enough to find ourselves in the Satellite Building which has it's own First Class Lounge, which is newer and much nicer than the main First Class Lounge, which is tired, old and pretty much of a dump. 
And it's own Dining Room.
OK, it's not elegant like Lufthansa or Air France, but still pleasant.
No menu option, just a serve yourself buffet with some nice options.
Nothing says JAL First Class than a Kraft Parmesan cheese shaker.   LOL.
Perhaps we were just hungry, but the food was very good.
Indeed, good enough for a 2nd round.  The lemon chicken was melt in your mouth delicious.
Our water choices were sparkling or not.   I'm thinking that someone in marketing at this company needs help.  Am I supposed to be enticed by the prospect of drinking "sweat"??   I was intrigued and sampled it... was kind of lemonade-ish.  But sweat?  No thanks.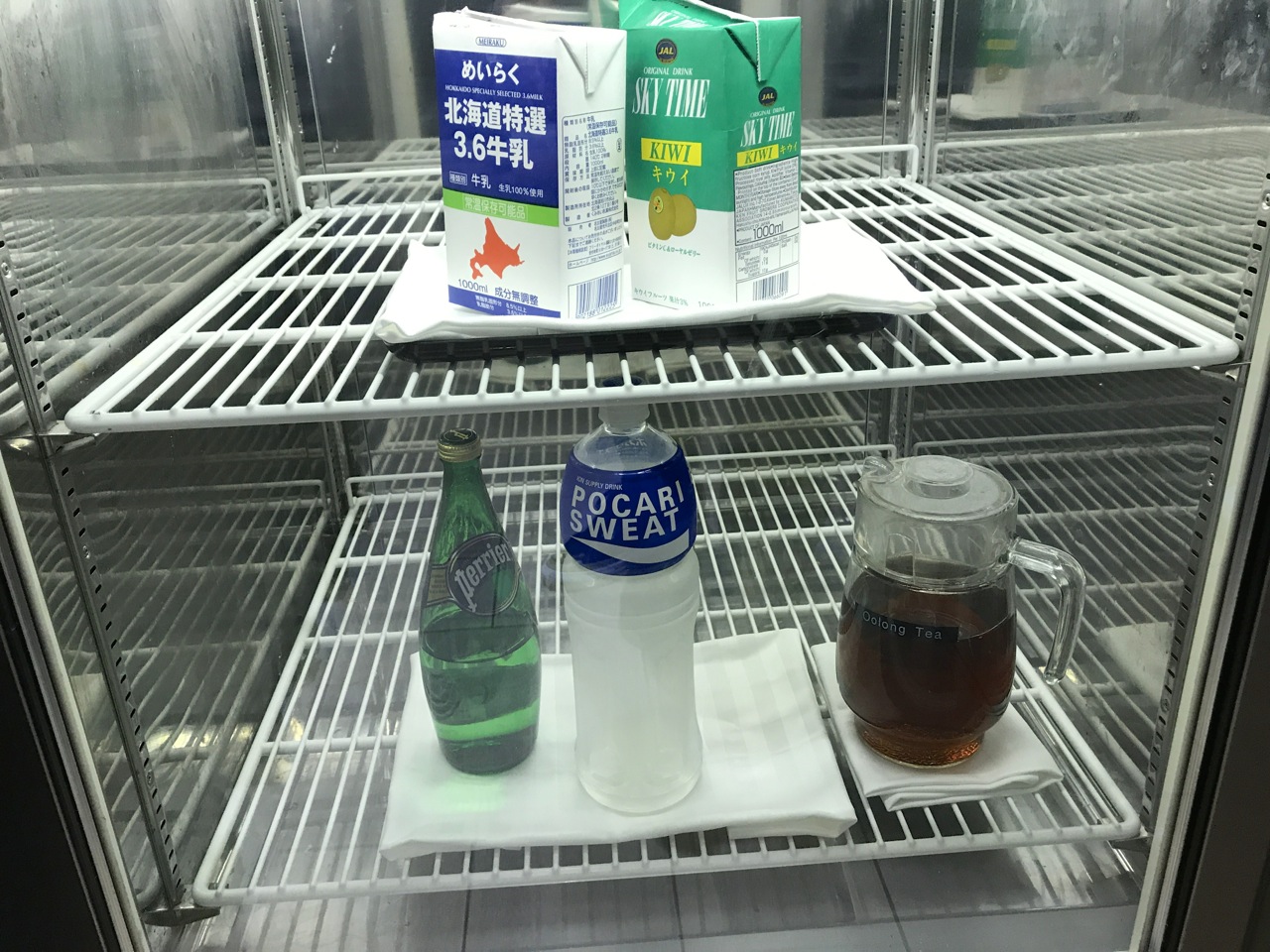 At around T-30, we headed out for Gate 70K...
...which turned out to be a bus gate.
Whoa, Toilet for Service Dog?
So how does Fido know that he is supposed to pee in there??
Tokyo Narita to Seoul Incheon
Japan Airlines JL 61
737-800
6:30p-9:15p
October 22, 2017
Seats 2AC
For a 2 hours regional flight, the cabin was more than adequate with comfy older seats, a ton of legroom and excellent recline.  
A quick peak into Economy.
Who, talk about an older IFE system.
We passed on dinner and dozed off for most of the flight but I did snap a couple of food pics from the pax around us.
Another excellent JL cabin crew that knows to keep the galley curtains closed in flight, unlike on US airlines.
All in all, an excellent flight with great service and a surprisingly comfortable seat.