Japan Airlines First Class to Tokyo
At around T-45, we headed for our Gate 130.
Los Angeles to Tokyo Narita
Japan Airlines JL 61
777-300ER (77W)
1:20pm-4:55pm
October 11, 2017
Suites 2DG
When the gate agent announced pre-boarding for families with children, we figured general boarding would follow promptly.  So we joined the queue.
Then boarding stopped due to "time for additional fueling".   Pity those poor familes with children that are apparently now at risk on board a plane being fueled.
At last, we had taken on enough fuel and another agent starting boarding First Class.   OK, this is nice... A jetbridge just for First Class, or so it seemed until it became the jetbridge for the entire plane.
Our comfortable 8 seat First Class cabin.
It soon became apparent that 1L was being used for everyone.  During a break in the herd, I asked one of the FAs why everyone was boarding thru the F cabin.  She apologized and said that there was a problem with the 2L jetbridge and they decided to board everyone thru 1L rather than wait for maintenance.  
JAL cost cutting became more evident with pre-departure champagne.   Our flight attendant came around with a tray of half glasses or champagne or juice.  The half glass was all that was offered.  When I inquired as to whether the champagne was Salon, our FA confessed and apologized that it was not Salon, but they will be serving Salon once we're in the air.   I inquire as to what champagne is was only to get this amusing "It is a less expensive champagne... but from the same region"  LOL.
All First Class passengers were given Complimentary wifi passes, although speed was terrible and wifi pretty much useless.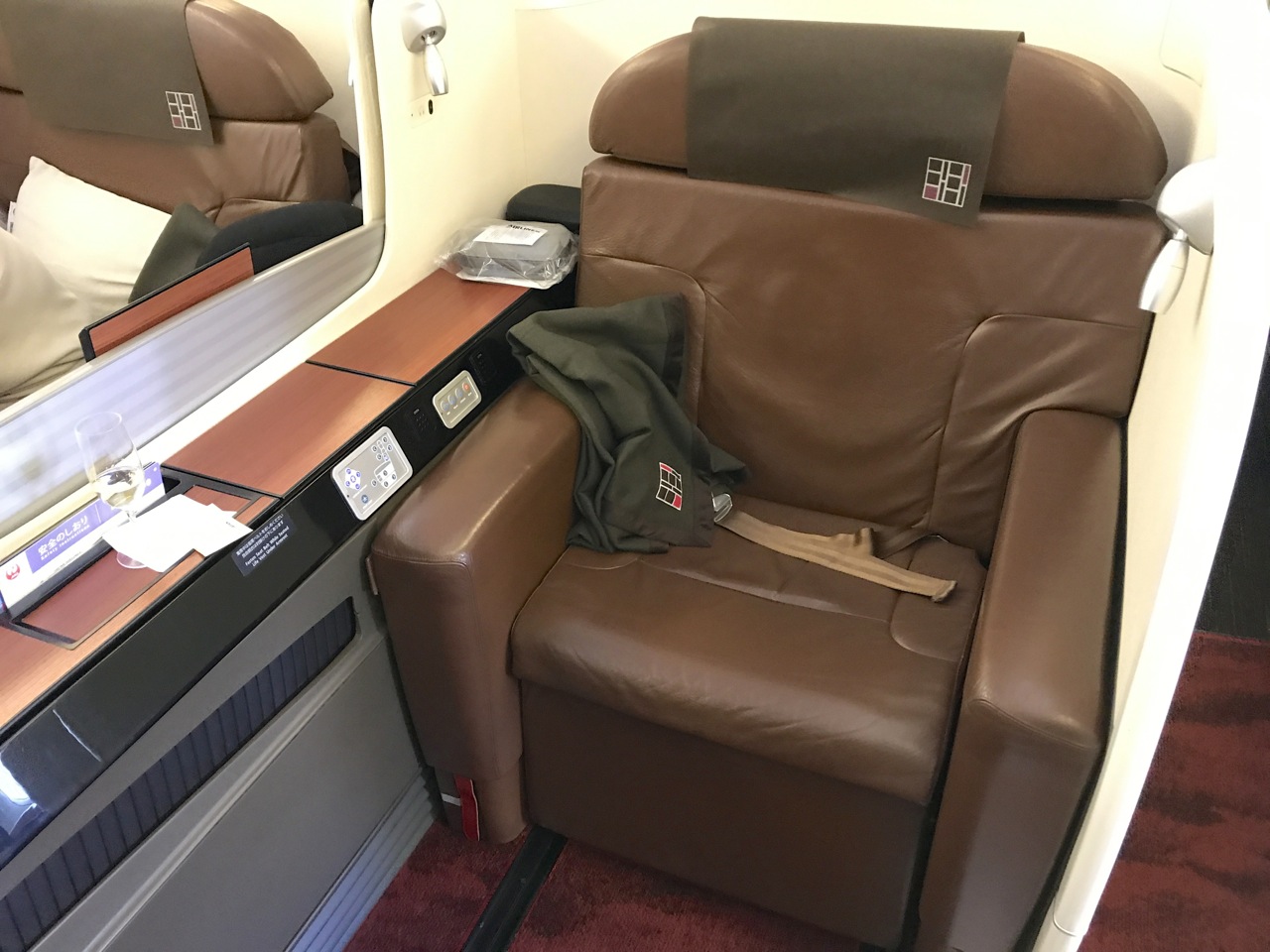 The JAL amenity kit.
Meh.
Am I the only one that thinks that this perennial JAL feature is a little tacky?
The lav although to be fair, it was pre-departure and the towels, flower and toothbrush kit and mouthwash had not been set up.
Today's Wine List and still one of the strangest acronyms in the airline business.  BEDD.  Apparently it stands for something like Bed, Entertainment, Dining. Delight.   Yikes.
All in all, reasonably respectable.
Showtime, JAL style.
And as promised, the good stuff.
And today's amuse bouche, cream cheese on mushroom and chicken.
And a pass of the JL snack basket.
Our neighboor in 2K.  Whoa, TMI.
We both decided on the western menu today since the menu sounded more interesting than the Japanese option.   The Green Pistachio (is there any other color?) and Black Truffle Mousse.  Very strange.
The Tuna Pastrami with Tapenade Cream tasted as bad as it looked.
Mrs. SFO777 started with the Lamb Salad with Sautéed Portobello Mushroom, Goat Cheese and Raspberry Vinaigrette.  She reported "strange" and not very good.
I opted for the Sautéed Foie Gras & Brioche French Toast in Port Wine Sauce.
It was actually quite good with a beautiful presentation.  It could have been a little warmer.  Also, a Sauterne might have been nice. Just saying. 
For my main, I went with the Sautéed Sea Bass with Cashew Nuts and Brown Butter.
It was a little dry and not that good.   Love the Sharpie stripes on the lemon though.  :)
Mrs. SFO777 chose the US Prime Beef Tenderloin with Spinach Flan and Périgueux Sauce.
It looked pretty perfectly done but she thought it was something less than Prime.
On the other hand, I thought it was delicious.
After my main(s), I went with the cheese course which were served pre-plated from the galley.  
The Graham's Tawny 30 year old port was delicious.
Mrs. SFO777 enjoyed the Royal Blue Tea which I had tasted a few months ago.
My dessert trio of which the Pear Tart was the tastiest.
I slept off and on for roughly 4 hours, although it was better after I asked the cabin crew to lower the cabin temp a few degrees.  Strange bedding as if was just the duvet on top of the foam mattress pad.  Now mattress pad cover which I thought they used before and certainly would have been more comfortable.
With 2 hours to go and Mrs. SFO777 still sleeping, I tried the Fajitas snack.
It was really dry and not very good.
As we prepared for landing, the Shiseido Men's kit had some nice products.
Despite the late LAX departure, we landing at Narita pretty much on time with an hour and 45 minutes to connect to Seoul.   In flight cabin service was excellent as always and with my previous exceptional in flight food experience had always kept JAL in the mid tier of my overall First Class rankings despite weak ground service.   Food wasn't as good and the general impression of cost cutting probably lowers them a couple of notches in my ranking.