Korean First Class Incheon to LAX
We arrived on time at Incheon and parked at may have been the furthest gate from the train.  After the long trek and security, we bid adieu to the kids who were flying home on Asiana.   We headed for the Korean transit desk to check-in for our ICN-LAX flight.  And then to the Korean First Class Lounge, where the mediocre breakfast spread had been replaced by a mediocre lunch spread. 
At around T-50, we headed out to our gate.
Where our A380 had just pulled into the gate.  I guess that this flight is not departing on time today.
Our flight crew waiting to board.
Seoul ICN to Los Angeles LAX
Korean KE 17
A380-800
2:40p-9:50a (sked)
3:20p-10:10a (actual)
October 22, 2017
Suites 2E and 2F
Eventually it was our turn.
Sure it's a dated open cabin with the old Kosmos 1.0 suites, but it's still a very pleasant cabin, especially today when there was a very quiet family of 3 in front of us in Row 1.
Pre-departure champagne.
Although not sure how our flight attendant missed this.
Today's menu...
This was a little confusing.  Korean offers Jedong Beef...
... but then says all of their beef dishes are prepared with only New Zealand or Australian beef.  Color me very confused. 
The universal KE wine list...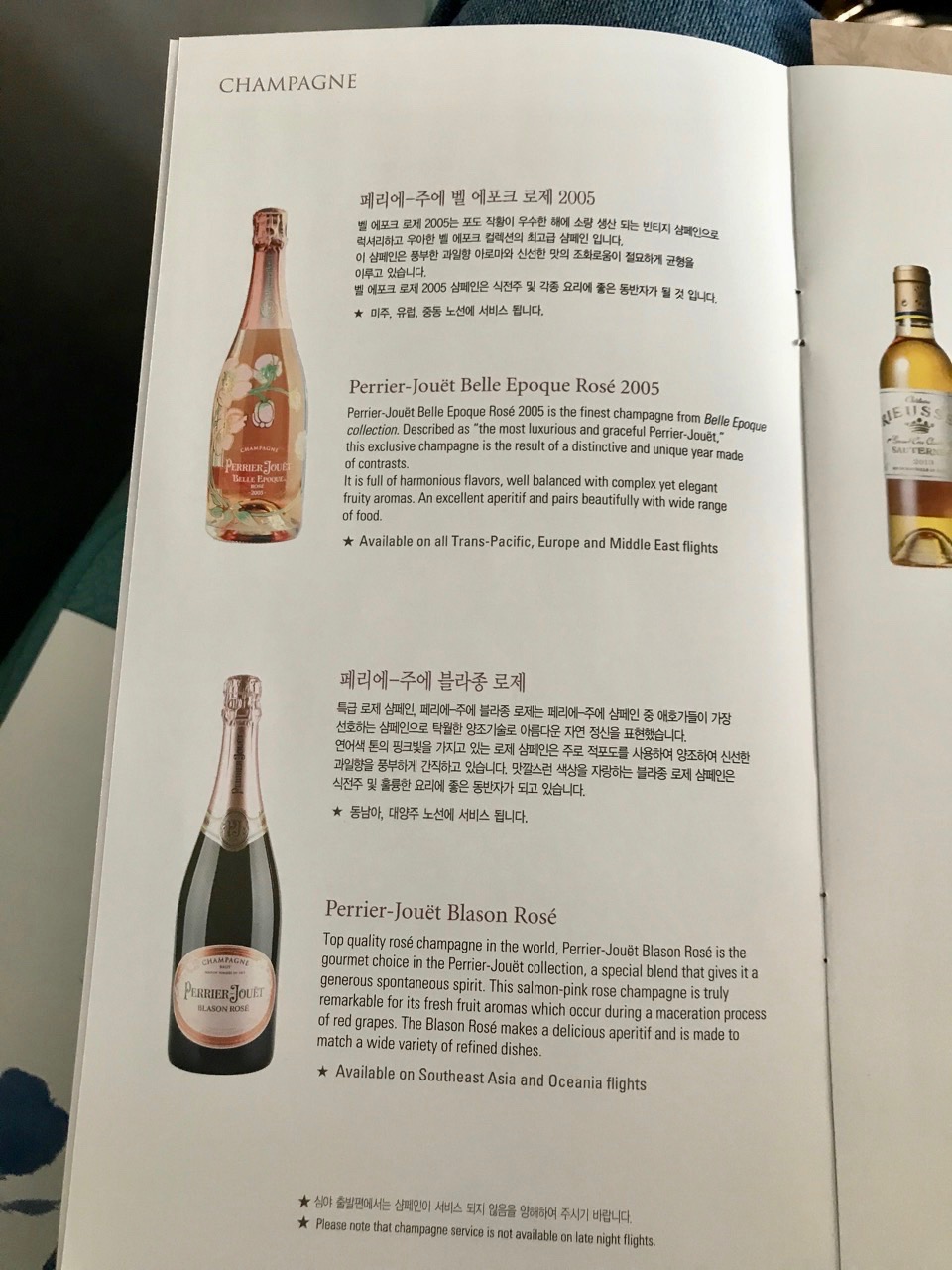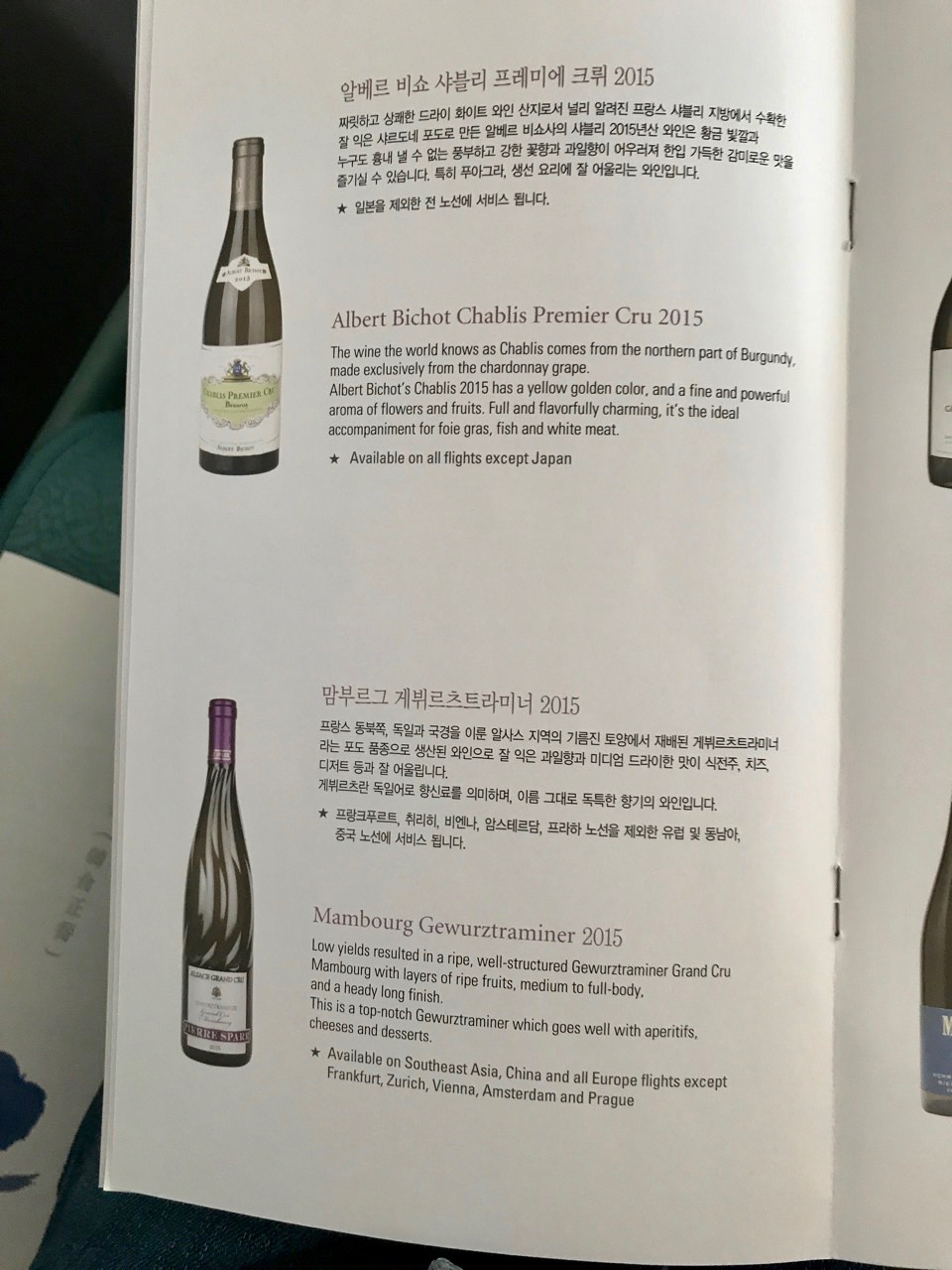 Playing around with the IFE, I discovered K-POP Dance music which I still can't get out of my head. 
After take-off our wonderful cabin crew began what was simply flawless service.
Our amuse bouche of Seared scallop and black mushroom with spicy orange sauce.
Next up was the Foie-gras terrine with fig compote.  OMG, it was divine.
Even better with a glass of the 2013 Rieussec Sauternes.
Nah, I didn't like it at all.  LOL.
The Chestnut cream soup was delicious.
The Seasonal Salad was fresh and delicious.
Mrs. SFO777's Jedong chicken.
While I went with the Jedong Beef rib-eye, with Madeira sauce and baked potato.  
I like my steak medium rare, but this is a little too raw for me.
I sent it back to be cooked a little more and a few minutes later, perfectly medium rare.
A little cheese? Why not.
And still with the K-POP.
For dessert, the Pecan Pie with ice cream was fabulous.
And the damage...
It's certainly not like Emirates, Qatar or even Etihad, but Korean has a mini-bar First Class at the front of the cabin.
Oh yeah.
Since the Korean First Class cabin is on the lower deck, they don't have the spacious lavs that most airlines have at the front of the upper deck.  While not an issue today with only 5 of us in First, a single lav for a full cabin of 12 pax seems a little light.   
I moved over to 2K and slept well for nearly 5 hours.
Showtime for our pre-arrival meal.
My Korean style beef rib and cabbage soup was quite tasty.
Our descent to LA on a beautiful morning.
We touched down 30 minutes late and were at the gate shortly thereafter.   Not the most modern product, but quite an enjoyable flight on Korean.