Lufthansa First Class Lounge Frankfurt
Sheraton Frankfurt Airport Hotel and Conference Centre
For anyone with an overnight in Frankfurt, this is a very convenient hotel to use. Even better when, as tonight, it was only $60 and 4,000 SPG points. And even though we arrived at Terminal 2, it was a short train ride and walk across the skywalk to the hotel. Since Mrs. SFO hadn't eaten on our flight, we dropped the bags in our room and headed down for a bite at the hotel's restaurant. For an airport hotel, excellent food and service. Both my onion soup and her Weiner Schnitzel were great. Not very crowded tonight although it was heart warming to see an old Russian man taking his jewel-laden, fur-wrapped grand-daughter on trips with him. LOL. Who says money can't buy happiness?
At 7:30A the next morning, we went downstairs and took a taxi for the short loop around the airport to the FCT. Driver was happy as I gave him 20 euros in advance to make the quick trip.
Lufthansa First Class Terminal
Frankfurt
This was our third visit in the last three weeks. I never tire of this place. Another warm welcome from our PA who took our passports, flight info and one checked bag. After private security, we dropped our bags in our "usual seats" and headed to the dining room for a quick breakfast. Mostly recycled pics from earlier in the month.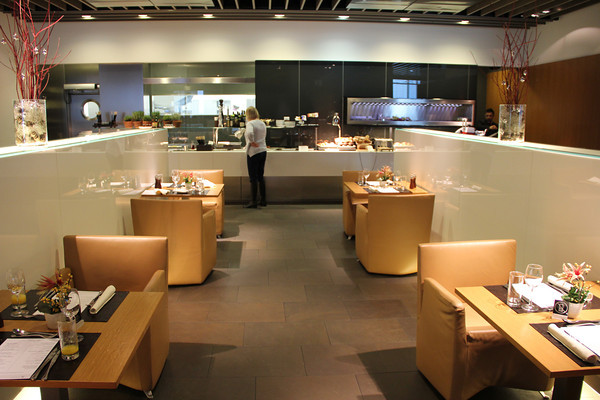 During breakfast, our PA came over and returned with our BPs, passports and luggage tag to ORD, and told us that the flight was running a few minutes late and she would come for us at about 8:40A or so. After breakfast, we headed back to our seating area to relax (or so I thought) until departure.
It was around 8:20A when relaxation abruptly stopped as Mrs. SFO casually asks "do you have my jewelry?" For those that have read eightblack's latest classic and the part about the ease and to-the-minute precision timing of traveling solo vs. the challenges of traveling with "the family", this is so apropos.
OK, why would I have your jewelry? Apparently it was my job to remove her jewelry from the safe and hand it to her.
I didn't bother using the safe the previous night and didn't even think about in the morning. Oh, crap!
I looked at my watch (8:20A), jumped up and ran out of the FCT. With no taxi waiting (why would they?), I took the elevator downstairs and starting running back to the hotel, dodging taxis and plotting the fastest way back. I still had the key and as long as they hadn't deactivated it, this might work. Amazing it did work and by 8:26A I was back in the room. The room had been cleaned, but mercifully the jewelry was still there... in the open safe to boot. Wow.
I was back at the FCT by 8:35A and naturally, there are two guys in front of me in security, one of whom moved so slowly that he would have fit perfectly in the line to avoid in "Up In The Air". Our now mildly anxious PA (she had asked Mrs. SFO to call me... and what, tell me to hurry?) was waiting for me right after security and we headed downstairs to our 3rd Porsche Cayenne in 3 weeks for the 5 minute drive around the tarmac to A30-something. Pics from last time.
And new ones from today.
Near the gate, our driver escorted us into the lower level of the gate, then up the elevator to mid point of the jet bridge, and walked us down the jet bridge to door of our A321. Another simply wonderful LH ground experience, and the reason I still consider Lufthansa to be the best overall premium travel airline.
LX 1079
FRA-ZRH
A321
9:00A-9:55A
January 7, 2013
Seats 5AC
Still hate the coach seat with an open middle that European airlines get away with calling Business Class, but there did seem to be a little more legroom than on LH. Y was packed but there were only 8 pax in a 36 maybe 40 seat J cabin. Nice newer plane, pleasant FA and a quick 30 minute flight. Amazingly, they even even served a continental breakfast. Sorry, no pics as we passed and I was still trying to recover from my workout, thinking about needing another shower once we get to Zurich. On time arrival, a quick taxi to close in gate A62 and we were in the Swiss First Lounge by 10:00A.
Next up: The disappointing Swiss ground experience continues to underwhelm. Sorry but no amount of better in flight food and service can make up for it.