Swiss First Class LAX to Zurich
At about T-45, we decided to head over to Gate 120. I doubt many will be disappointed when this ugly terminal becomes just a memory.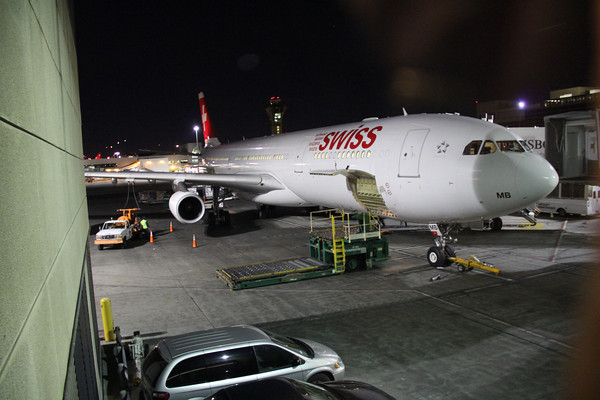 Hmm. 1L not connected tonight??
Swiss 41
LAX-ZRH
340-300
December 27, 2012
7:25P-3:45P +1
Departed 6/8
Seats 2DG
After all the raving about LX being better than LH, I am excited to experience Swiss First in person.
But not a great start as boarding commenced with "families traveling with children and those needing a little extra time to board". You can't announce and board your 4 F pax? Then to make matters worse, the next call was a cattle call of "First Class, Business Class, HON, SEN and Star Alliance Gold members". Seriously? OK, I might understand this if they used both 1L and 2L, but no, only 2L is being used so we get to enjoy a queue in the jet bridge as everyone boards in the same single door.
When it was our turn in the queue to board, FA asked Mrs. SFO where we were sitting. When Mrs. SFO said 2nd row, she asked for her BP. Once she saw the F BPs, a feat requiring a close examination since (unlike LH, SQ or CX) all LX BPs exactly look the same regardless of class of service, she smiled and welcomed us on board... although just pointing to the front of the plane as she was the only FA checking BPs at the door.
But once in F cabin, we were warmly welcomed by our two F FAs and the Purser. Our first look at LX First, the older version as the 343s have not be retrofitted. Pleasant looking although not the most comfortable seats. And some major deficiencies in the storage area. Flimsy arm rests and absolutely zero cubby storage areas for glasses, iphones, etc...
FA offered champagne. I can't remember what champagne it was, although FA knew it was subpar as he apologized for the absence of the Grand Siecle on the ground. Something about a duty issue with the good stuff. How about LX is too cheap to pay the duty on the good stuff? CX or SQ don't have a "duty issue". But the crab cake in remoulade was excellent and a nice touch at the gate.
The amenity kit was better than LH with Laprairie creams, including hand lotion (something LH not longer believes in) and eye cream.
Hmm, that galley looks awfully close and exposed. Glad we're not in row 1.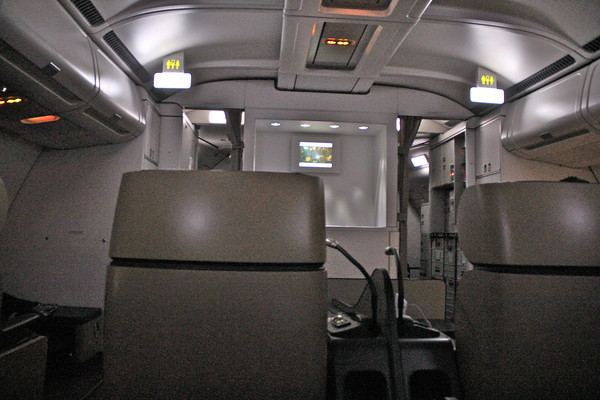 Just after take-off our crew was up and prepping for our two hour feast. But how about closing the curtain? The only flaw in an otherwise flawless service night.
The largest tray table I've experienced on any airline.
Once in the air, we can break out the Grand Siecle.
But that curtain is still open...
Very elegant setup...
Still no curtain...
Tonight's very nice menu with some great options...
With a wine list that I would on par with LH, although way too many Swiss wines, IMO.
Elegant starter tray with wonderful options.
We both went with the balik salmon and seafood cocktail, which tonight was cold lobster tail and claw. Both were excellent especially with the Grand Siecle.
Next up was a wonderful seasonal salad with bacon and parmesan. Paired with the excellent Bichot 1er cru Chablis Les Vaillons...
For the main, Mrs. SFO went with the Pacific Halibut with tomato sauce, lemon basmati rice and green asparagus. Paired with the Chablis.
I opted for the grilled beef tenderloin with green peppercorn sauce, fettuccine, glaced carrots and broccoli. I was asked and requested medium rare.
Indeed it was medium rare, and positively sensational... one of the best tenderloins I have eaten inflight. The 2008 Dillon Le Clarence de Haut-Brion was a nice pairing.
And then cheese from the cart, and a glass of the Graham's 20 year tawny.
By this time, somewhere over Wyoming, a few hundred miles NNW of Denver.
And to finish with sweet, the tiramisu was delicious.
And chocolates before getting some sleep.
All in all, truly outstanding meal service. The food was exceptional, better than LH, and the service refined and elegant. As the only female in the cabin, Mrs. SFO was the first to be served each course though seated in 2G. The only minor negatives were the open curtain to the galley and our FA forgetting that I had asked to try the mushroom ravioli as a starter (he did apologize profusely after dinner after he realized the omission). But those were the only minor flaws in an otherwise flawless meal and service.
It wasn't too long after dinner that I faded and decided to go to sleep. I went to the lav to change.
By the time I had returned, my bed was made. I passed out pretty quickly and woke about 5 hours later. Not the best of sleep as I recall. Cabin temp was fine. PJs were very comfy. Duvet was nice but the "mattress" and seat were just not very comfortable. Very hard and only slightly better than sleeping on a floor. Nowhere near as comfortable as the LH 744 real mattress bed.
I woke up at about T-2.5 and moved over to 2K to download and edit pics. At about T-90 minutes or so, our FA came around and offered breakfast. No formal menu just a series of options. Pretty much anything you could imagine... eggs, omelet, eggs benedict, bacon, sausage. I went with a little fruit and tea.
And delicious eggs benedict.
As descended, our FA brought coat but on a hanger on the back of the seat pod in front. Both FAs thanked us for flying LX and wishing us a pleasant time in Spain. As did our purser, who presented us with a gift of chocolates and a pen/pencil holder... mini LX galley cart.
Connecting flights (but not ours) displayed on the screen at the front of the cabin.
We landed on time at taxied to one of the E gates a few minutes later, ending a pleasant 11 hours in LX First. Outstanding attentive service and great food. Unfortunately, the 343 hard product leaves a lot to be desired. I'm looking forward to flying the new First 333 on our return to ORD.
Next Up: You call this First Class Ground Service??