Malaysia A380 First Class to London
At around T-50, after a stop at Starbucks, we headed out to A380 Gate C27 and our first experience with another great Asian airline.
Malaysia Airlines MH 0004
Kuala Lumpur (KUL) to London (LHR)
Airbus A380
10:35A-4:15P (sked and actual)
December 3, 2013
Departed 4/8
Seats 1DG and 1K and 2K
Additional security check prior to entering the Gate.
And the A380 gate waiting area.
After handicap and pax with kids boarding, First and Business Class pax were invited to board. From the jet bridge, a separate F pax bridge to 1L and our home for the next 14 hours.
The K suites...
And the DG suites...
Around the very comfortable and well designed suite...
Nice hanging closet.
And incredible amount of personal storage space. When closed, lots of flat space for stuff, pillows and arms and elbows. Very nice!
PJs and amenity kit.
And an excellent IFE system with great video quality and a good selection of movies, although not in the EK/SQ IFE league.
And just behind us and the galley. Yikes.
On time push.
And a short taxi.
Ready to go.
My usual G&T to start
Today's menu.
Small but very nice wine list.
Showtime...
And the famous MH satay...
Sensational. I could have been happy pigging out on just the satay.
Satay and Dom. It doesn't get much better.
OK, well maybe Satay, Dom and Caviar!
While I had the caviar, Mrs. SFO opted for the Seafood Tom Yum, spicy soup with prawns, snapper and mushrooms.
We both had the tasty short rib.
The 2010 Schubert Marion's Vineyard Pinot was excellent.
For dessert, the Pistachio Franzipan Tart was simple but delicious.
And more Dom.
And a little music.
After downloading and editing pics, time for bed. With nobody on the K side, our FA made both 1K and 2K into beds for us. Slept great for about 4 hours.
One of the disadvantages of the F cabin on the main deck is a lot less room for spacious bathroom. Indeed, no room for spacious baths.
Snack time. The noodles were outstanding.
Time to head upstairs and explore the J cabin.
Much more spacious than the F lavs.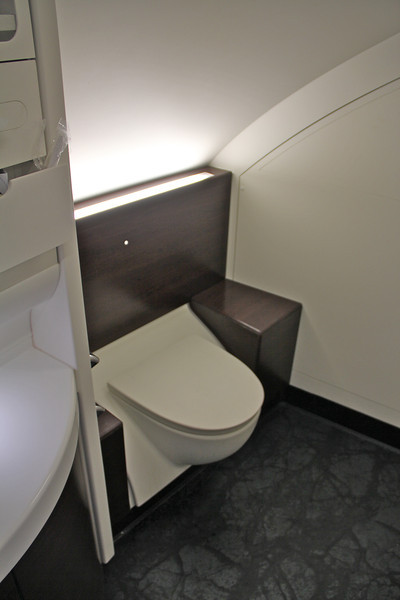 Back downstairs.
More IFE, music and Red2.
A couple hours to go and time for another snack. Thought I'd try the Pepperoni Pizza. Yikes. Bad choice. Essential a piece of bread with a few toppings, not one of which was pepperoni.
Next, the Wild Mushroom Custard Tart was fabulous.
On our descent.
And approach.
We really enjoyed our first Malaysia experience. Outstanding service and other than the no-pepperoni pizza, excellent food. IFE was very good, better than EY but still not quite as good as the gold standard for quality and quantity... EK and SQ. The IFE guide was too short, lacked detail and seemed to be an afterthought.
The suite was excellent, seat and bed comfortable. But the biggest problem was the fact the F cabin is on the lower level. Way too much traffic and not enough space for proper sized lavs. But the biggest flaw is the position of the galley. Major design flaw in positioning it north-south instead of east-west which means that the work and noise is way too close to the cabin. Every little noise is audible throughout the cabin, not just row 2. The lack of doors means open shades which can be annoying if you have a jerk in 1A that refuses to lower one of his shades.
In spite of these flaws, the service was so good that I would not hesitate to fly MH and the A380. It is still light years ahead of 2nd rate carriers like BA.
Up Next: A day in London and our day with the airline that has supplanted United as the worst airline in the first world.