Etihad First Class to Abu Dhabi
Etihad 130
Washington Dulles (IAD) to Abu Dhabi (AUH)
A340-600
9:30P-7:45P +1
November 26, 2013
Suites 2DG and Suites 2AK and any other Suites we wanted
Our Private Charter to Abu Dhabi!
Another great AAdvantage partner is Etihad. IAD-AUH-MLE was 90,000 miles per person one way, booked with an EXP agent. Availability is much better than EK, as EY and AA don't play games with award seats like EK/AS. Any time I've checked, there was amazing F availability from both JFK and IAD (ORD is only a 2 class).
Ever since I booked this flight some six months ago, we were the only 2 pax in First and indeed Mrs. SFO and I were the only ones in First Class tonight. Boarding was painless and direct from the lounge to the jet bridge and 1L.
We were warmly welcomed by one of our two First Class FAs Lenka (from the Czech Republic) and Personal Chef CiCi (from Bali).
Beautiful cabin with soothing colors and a lot less bling than Bling Air.
Mrs. SFO and I agreed that the EY suite feels more spacious than the EK suite... "less crap" as she noted... the lamp, the snack basket, the mattress rolled up beside the seat, etc... LOL. I do agree with others that this is a pretty useless feature of the suite. Why drink a warm water when something cold is a call button away.
Suites D and G when the divider is up.
And our pre-departure champagne, Jacquart. Another "we can't break out the good stuff on the ground due to regulations" sob story.
Not quite the personalized note like CX but a nice touch nonetheless.
The EY amenity kit, with the most impressive part being the bags especially the Swarovski studded one, a keeper in Mrs. SFO's book.
The biggest disappointment was the terrible IFE system. This was Mrs. SFO's biggest complaint, especially three weeks after SQ, which she now rates the best for quality and variety. Other than the logo and the index/list of movies, poor "one step above black and white" video quality. And the selection of movies was pretty weak. The poor entertainment guide apparently an afterthought. And old analog type controller.
The best I could find that I hadn't already seen. Having lived in Canada during the 1972 Super Series it was very interesting, although Russian film-making is just a tad behind the times.
The good news is that they have noise canceling headsets.
The bad news is that someone decided to save money and not buy Bose. I passed and just plugged in my Bose NCH.
Touch screen seat controls would have been better with more flexible controls.
Both our menus and beverage/wine lists were in our suites, we were able to review our choices before push.
Nice selection of liquor including SFOJr's and many others' favorite, Johnny Walker Blue.
Other than the champagne (2000 Billecart-Salmon and Henriot Brut Rosé), the wine list was the most disappointing list and worst selection of cheap swill of all the major international carriers I've flown in years.
On the other hand, one of the best menus I've seen in a while, even without caviar.  Amazing to think that they had to cater all of this for just the two of us. Even Short hair Francis would have trouble cleaning out the galley tonight.
Shortly after take-off, the good stuff. The first of many glasses of the Billecart.
Showtime!
Mrs. SFO started with the Pea and Mint soup which she said was delicious.
I went for the excellent Mezzes.
Raspberry sorbet palate cleanser. Nice presentation with a little dry ice.
Mrs. SFO had the grilled (Scottish) salmon which she loved.
My Lamb ghouzi was very good, the fried rice amazing.
With each course, a new set of wrapped silverware.
Billecart si, Tempranillo no.
My first dessert of the night, was a fabulous dessert taster.
Time to finish the movie.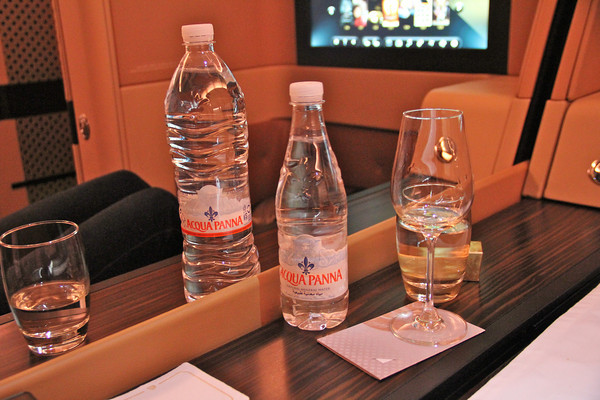 And move over to 2K to sleep, Mrs. SFO moving to 2A.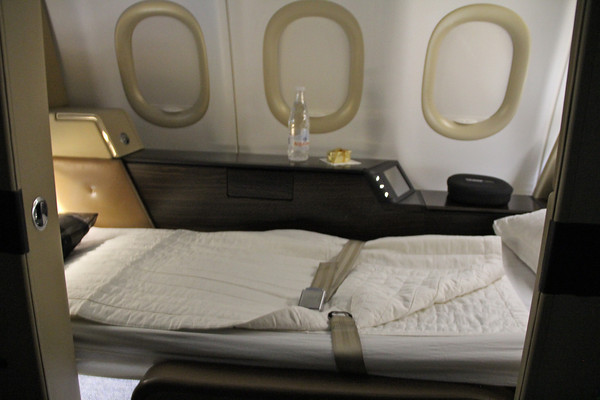 After 4-5 hours sleep, I moved back to 2G and downloaded and edited pics.  While EY does have Wifi on some planes, tonight's A346 was not one of them
But first a stop in the only good sized lav up front. We had trouble accessing it later when a couple of J pax decided to sneak up. Can't imagine how this would possibly be adequate with a full F cabin.
With Mrs. SFO still fast asleep, great crew kept checking on me offering food and drink. OK, let's have some tea and another dessert.
The Arabian Mint Tea with honey was wonderful.
And the warm sticky toffee pudding was to die for.
Into the home stretch, we've missed most of Wednesday. But a beautiful sunset.
At around T-75, Mrs. SFO joined me back in the our center suite for breakfast.
I had lusted over the rib-eye earlier and Cici remembered. One of the best steak and eggs I've had. The rib-eye was amazingly flavorful, even though a shade over done.
And Mrs. SFO's omelet with some of my rib-eye.
The last of the sunset over Saudi Arabia.
Blue is my favorite color and this mood lighting on our descent was great!
Our approach over Abu Dhabi.
Overall a great flight with one of the best cabin crews we've experienced.  I love the Etihad menu and the on board chef concept. That we were the only two in the cabin no doubt contributed to our satisfaction. Not sure we'd be quite as happy in a full cabin. Overall, I'd rate it an A- with the IFE, wine list and only one full bathroom holding it back.
It was too dark and stormy at Dulles so we never had a chance to see our cool plane...
Two calls to EY before we left and on both occasions I was told that, Etihad Guest Gold notwithstanding, chauffeur service during our transit was not available and that I would have to call AA to "change the ticket". No idea what that meant or why transfer service for Golds was not available on this ticket. I declined to pursue it figuring we'd just take a taxi. But on the way to the taxi, I figured I'd give it one last shot. Strike three and we head for the taxi line.