Singapore First Class London-Singapore
SQ319
LHR-SIN
6:30P-2:20P +1
September 20, 2010
777-300ER (77W)
First Class
Seats 2CD
A 5 minute walk and we were at spacious and very civilized Gate 1. Boarding had started, through two doors and jet bridges one on each side of the podium, First and Business on the left, Economy on the right, with GAs manning each. We were the only pax walking down the jetway "This is so much better than JFK." As soon as we crossed the threshold we were met by our Inflight Supervisor David who welcomed us and escorted to our seats. "Wow, these seats are huge. These are nice." from Mrs. SFO.
Both our Leading Stewardess and Leading Steward also stopped by to introduce themselves and welcome us on board... took my jacket, offered pre-departure beverage (a glass of Dom would be wonderful, thank you).
Our (very attractive Singapore Girl) Leading Stewardess Tan offered newspapers, magazines, amenity kits, PJs, headsets, and then spent some time with us explaining the service today. She knelt beside our seats most times she was going to be asking more than one question, first on Mrs. SFO's side and then on my side. Mrs. SFO was clearly impressed but sensing that I was starting to enjoy this just a little too much. "No I'm not going to wear a sarong and greet you and serve you like that" was her rather quick and disappointing response to my suggestion.
Shortly later, our IFS David presented us with our leather bound menus. Not Gordon Ramsey tonight but what a treat.... Matt Moran of Aria in Sydney. And a much more interesting wine list tonight than some of the swill on the short JFK-FRA. Specifically one of my favorite Burgundy producers, William Fevre and the 2007 Chablis Premier Cru Vaillons.
Are you a photographer? Mrs. SFO laughs, "no he just likes to fly and take pictures and write trip reports of wherever we go." Yes, I do.
Prior to take off, our SG Tan took our post departure drink, then our dinner selection. While I opted for the full treatment, determined to try to take a break from an orgy of food and drink in Paris, Mrs. SFO decided she really wasn't hungry and was going to go light.
Dinner from Aria and SQ at 38,000'
Ten minutes after our amazingly smooth roll and take off ("have we taken off yet?" from Mrs. SFO), our great crew of 3 First FAs were in full service mode for tonight's 6/8 cabin. What followed was 12 hours of the most flawless and amazing service one could ask for. This was one fabulous team, with perfectly pace service including the many small touches that set SQ apart from other airlines. Each time any of the three addressed us, they did so by name.
Gin & Tonic followed shortly thereafter by delicious Lamb and Chicken Satay with onion, cucumber and yummy spicy peanut sauce.
Showtime! And time to taste the William Fevre Premier Cru Chablis Vaillons...
Matt Moran's fabulous Anti Pasto, which included proscuitto with celeriac remoulade, piperade, grilled asparagus and extra virgin olive oil, and parmesan cracker. Sensational paired with the Chablis.
Matt's Tomato consomme with lobster, tarragon and petit vegetables was very good, with nice sized portion of lobster. And another glass of the Chablis.
Salad of baby spinach, arugula and green frissee garnished with sun dried tomato and olive, served with a lemon vinaigrette. And another glass (or two) of Chablis, merci.
Talk about a wow... Matt's Roasted Lamb rack with rosemary jus, ratatouille, pesto sauce and fondant potatoes. Simply sensational and perfectly medium rare. To accompany, I opted for the 2005 McLaren Vale Mr. Riggs The Gaffer Shiraz. I don't drink a lot of shiraz, but this was excellent and paired very well with the lamb.
Next up was a selection of cheeses which I declined. Brie, hereford hop, cashet blue and mull of kintyre served with quince paste, grapes, nuts and crackers.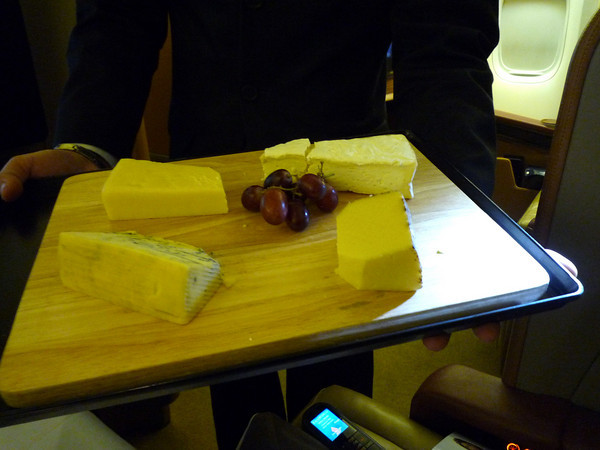 Fresh fruit plate? Why not, the strawberries and plum were really good.
Dessert was the only disappointment tonight as the Honey bavarois with poached quince, saffron syrup and tuile was a little too bland for my liking.
Not quite as good as the tea in Marrakesh, but the Moroccan mint tea was a nice way to wind down the orgy, and the pralines were divine.
Shortly after dinner, I decided to join Mrs. SFO and watch a movie "in bed". We enjoy non-Hollywood movies (especially at The Embarcadero) so it was fun to sample some great movies I'd never heard about. I slept for only a couple of hours as i apparently failed to consume enough alcohol, or perhaps didn't like the warmish cabin temps. Decided to move over to 2F to read and work on trip photos and my TR. And naturally, every 10 minutes or so, one of our three First FAs would make the rounds and freshen my water.
After a couple of movies, couple of hours of sleep and some computer time, I took a final turn in one of our two attractive lavs.
Lav (almost) always cleaned and TP folded hotel style after each usage.
A foot opener for waste flap is a great idea...
A little more than 60 minutes out of SIN, the crew began breakfast service. We both started with a fruit plate and Mrs. SFO selected the traditional scrambled eggs with bacon, vine-ripened tomato, mushrooms and potato cake.
While I opted for the Nasi Lemak, Malay style coconut rice with spicy prawn sambal, egg omelet and fried chicken. It was excellent and perfectly medium spicy, but I just couldn't get into the little crunchy fishy fries.
We touched down at SIN about 10 minutes early and then exchanged warm personal thank you's and "hope to see you again" with our three outstanding FAs. What a fabulous experience today, from check-in to our final adieus.