Singapore Amazing New A380 Suites
At around T-50, we left the lounge and headed for our nearby Gate D75.
Our SQ A380.
Shanghai PVG to Singapore SIN
Singapore SQ 831
A380-800
4:50p-10:20p
July 2nd, 2019
First Class Suites
Suite 1K and 2K
The original idea for this year's RTW was to fly the new Singapore A380 suites and Thai First, which I hadn't flown in years.  We'd both done the regular 12 seat SQ A380 First Suites cabin multiple times, but not the new 6 suite cabin.  The cheapest and easiest SQ new First flight is PVG-SIN.  It's only a 5 hour flight but timing worked perfectly.  It was a reasonable deal at the Standard award price of 98,000 KrisFlyer miles.  It go much better as my 53,000 miles Saver seat waitlist cleared and I got a 45,000 mile refund.  
Prior to any boarding call, the gate doc checker saw our First Class boarding passes and directed us to the left lane and told us we can go ahead and board at our leisure, which we did.
The new Suites First Class cabin is on the upper deck and is just six very spacious and elegant suites.  
1A/2A and 1K/2K are perfect for a couple as the suite divider drops down and transforms the two into the ultimate commercial travel experience.  Simply amazing.
Lots of cool storage space.
Our wonderful stewardess Evelyn with the first round of champagne.
SQ Suites have two lavs at the front of the cabin.  One small lav and this larger one.  No shower but attractive and very spacious.
Today's menu...
And wine list...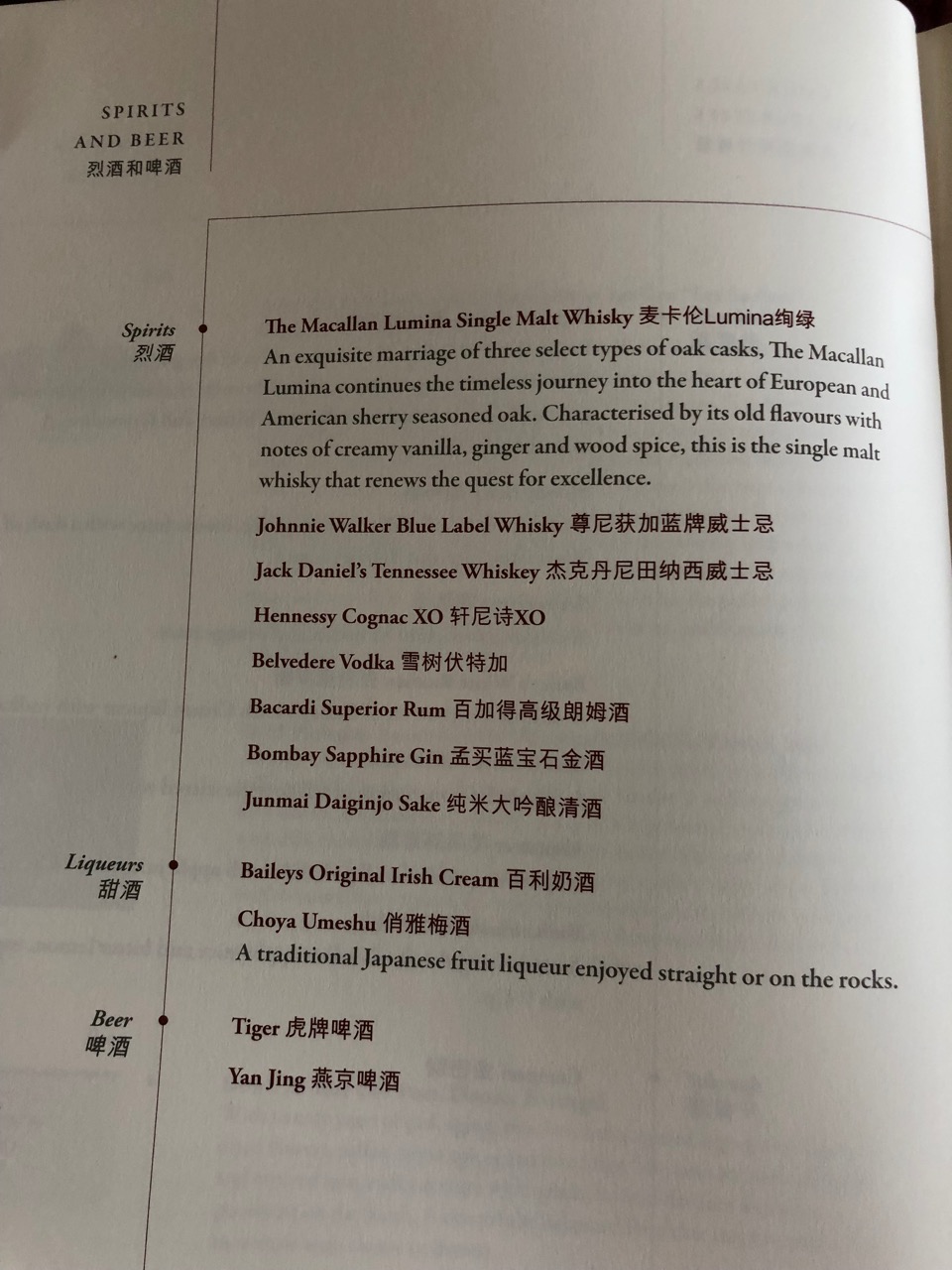 And we're off...
After take-off, the closed door make the suite very private.
My huge flat screen, adjustable at the touch of a button.
We both switched to Krug to begin today's taste test.   Dom or Krug? Dom or Krug?
Both the seat and tray table swivel for optional sitting and dining positions.
The heavenly SQ satay starter, chicken and lamb with onion, cucumber and spicy peanut sauce.
And more bubbles for both of us.
Today's route...
Showtime, SQ style...
I passed on soup and salad, opting to try both starters.  The Smoked Goose Liver Paté with apple celery salad and mango fig chutney didn't do anything for me. 
But the Warm Scallop and Mushroom Ragout in puff pastry was excellent. 
OMG, the lavosh was divine.
For my main, I went with the Chinese menu and Shi Quan Shi Mei, from SQ celebrity chef Zhu Jun.  Scallops and Yunnan Melon, Braised Pork Belly with Bamboo Shoots, Stir Fried Lily Bulb and Broad Beans, Braised Baby Abalone on Egg Noodle.  Everything was delicious with my favorite the abalone and egg noodles.
And dessert...
Mont Blanc Cake with vanilla ice cream.
After dinner, we asked for our beds to be made, mostly for the photo op.  Unfortunately, one of the beds did not go fully flat... even with four cabin crew member working on the problem.
Close enough.  For a couple, this is spectacular.
We pulled into the gate a few minutes ahead of schedule at roughly 10:15pm.   What an amazing experience.  The SQ First Suites hard and soft products are simply out of this world.   And for a couple, this is now the finest commercial travel experience in the skies.  Bravo to SQ and our wonderful crew for a spectaclar flight. 
Talk about luck.  We the only passengers entering Singapore at the time we were there.  Out in no time and at our downtown hotel 20 minutes later.