Garuda Indonesia First Class to Jakarta
At around T-45 Luke came to retrieve and escort us to Gate 31.
London-Jakarta
Garuda Indonesia 087
777-300ER (77W)
8:15p-5:15p +1
November 15, 2016
Departed 2/8
Suite 2A
Our passports and boarding passes were scanned at the gate podium and Luke escorted us past the other passengers into a holding area at the top of jet bridge.
After a short wait, the cabin was ready and Luke escorted us on board where we were warmly welcomed by three, count them, three First Class cabin crew members... our 2 First Class flight attendants and our personal First Class chef, who doted on us for the next 14 hours, on our amazing "charter" flight to Jakarta.  One of the best flights ever!   Very attractive First Class cabin.
Oh yeah, definitely a 5 Star Airline!
My Suite 2A, complete with a personal selection of newpapers, amenity box, stationary, menu and wine list.
Pre-departure Laurent-Perrier Cuvée Rosé.
My first of three glass before departure. 
Substantial amenity kit.
With things I can actually use.  What a concept.
Our lovely FA Sari presenting my slippers.  Just like Mrs. SFO777 does at home.  LOL, ya right.
IFE was just OK with a limited Lufthansa-like selection of movies.  In the end, batmandds and I had such a good time drinking, eating, drinking, working online and interacting with most personable cabin crew that I never watched a movie.  
On the other hand, Wifi worked reasonably well for most of the flight, and was complimentary for First Class passengers.  Wow, what a concept.
Very nice starry night cabin ceiling.
Menu...
And the wine list, featuring a nice mix of mostly French wines.   Two lovely champagne choices.  And as a Chassagne lover, the Marc Morey Chassagne-Montrachet was a most pleasant and extravagant suprise.  Even better than the feature Air France La Première Burgundy.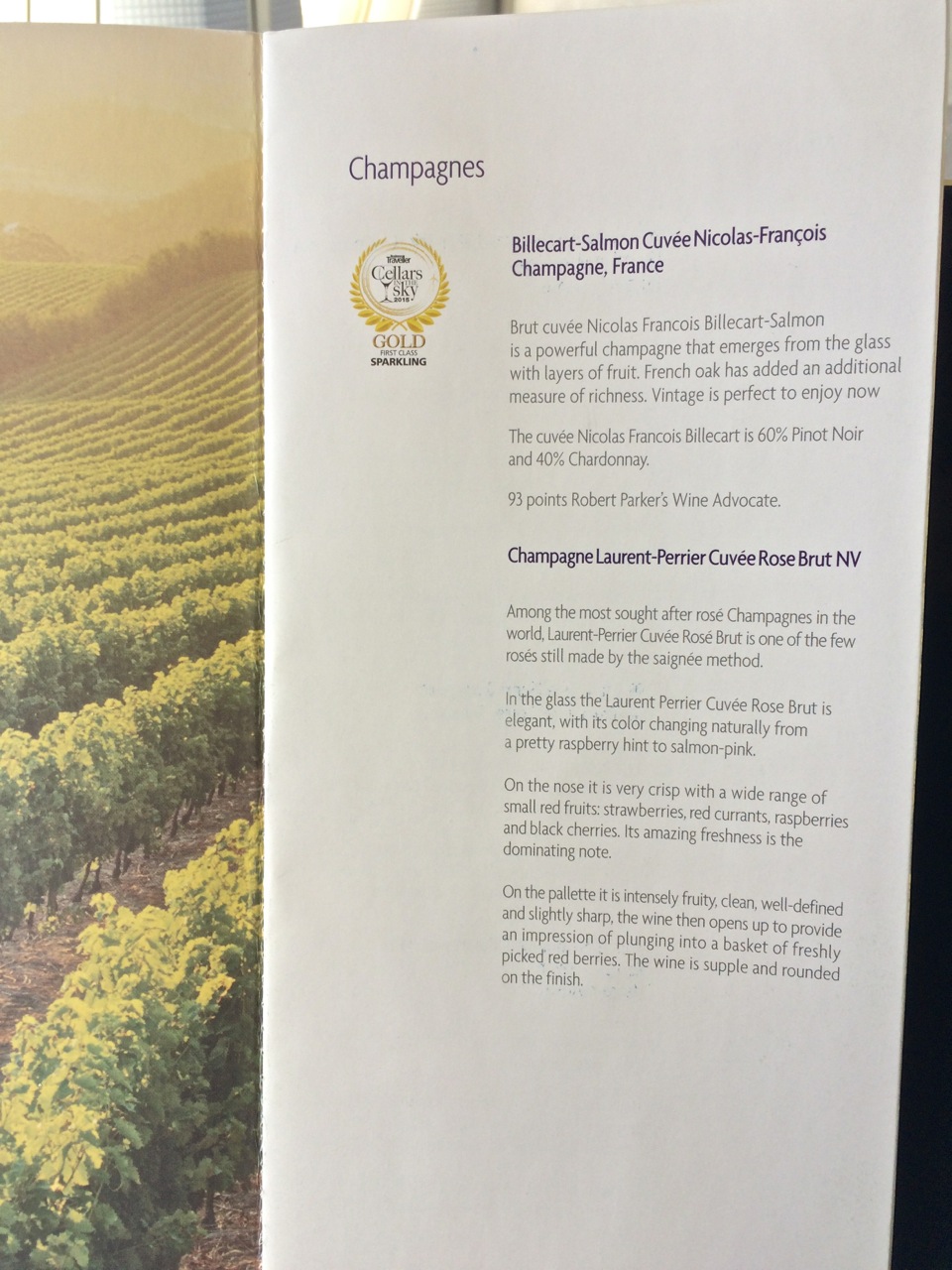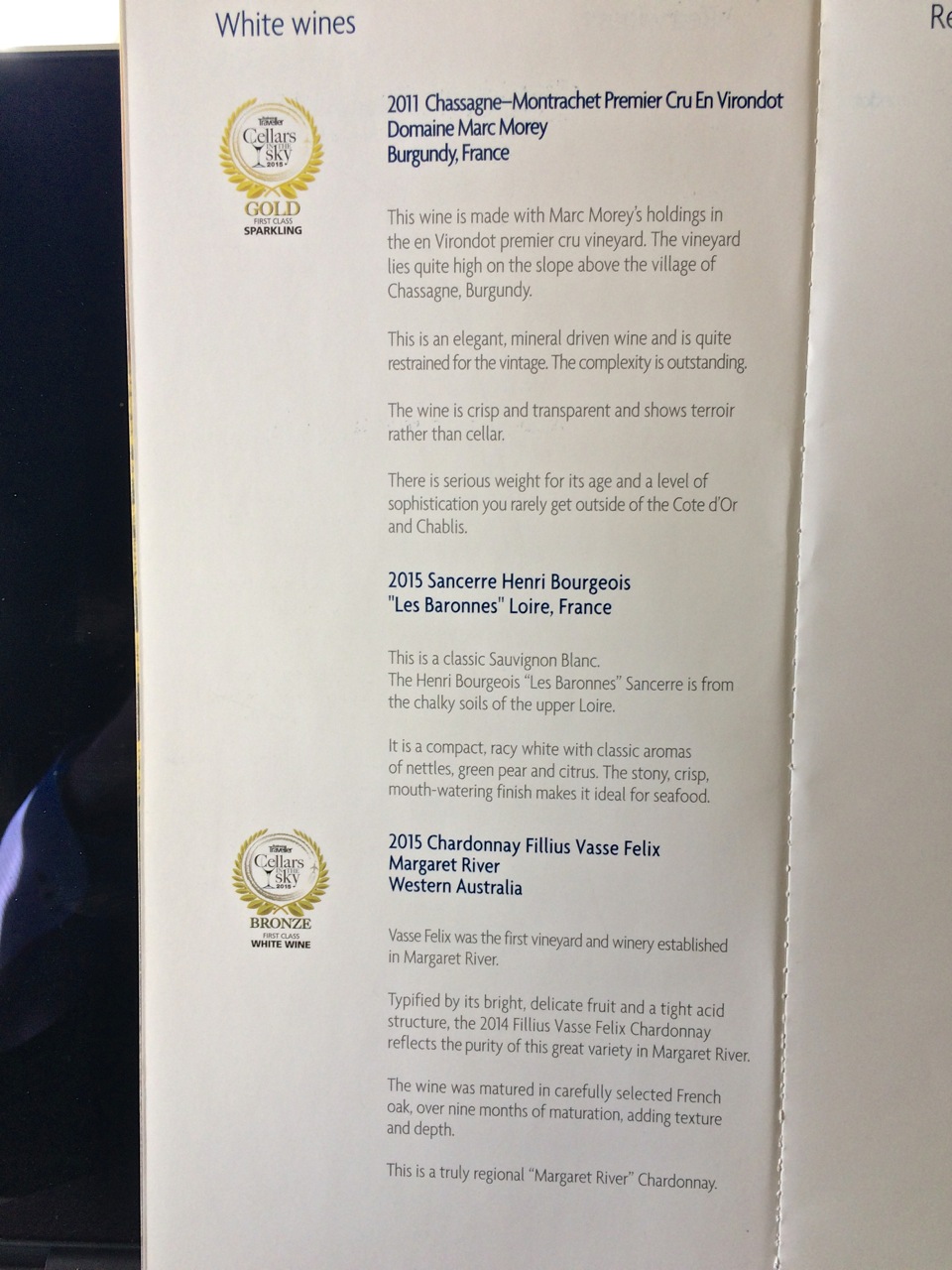 After take-off, our crew began what was simply marvelous and flawless 14 hours of inflight service.  
Chef taking our dinner orders.
batmandds and I moved to 1DG for dinner.   Showtime, Garuda style!
The fabulous Morey Chassagne-Montrachet.
And another glass for batmandds.
batmandds started with the Smoked chicken terrine, fig relish with tomato and crouton.
My Smoked duck was delicious, with coconut and mango yogurt, papaya salsa and grilled pineapple.
Chef with our soup.
A beautiful presentation and serving.
My turn.
OMG, the Chicken noodle soup was divine, with meat ball, pak choy and spring onion.  
Having finished off the Chassagne, we moved on the delicious 2009 Durfort-Vivens Margaux 2e Grand Cru Classé.
LOL.
Uh huh.
For his main, batmandds went with the Roasted Lamb loin, with lamb jus, garlic and parmesan risotto, buttered garlic and olives.  
I went with the Indonsian beef rendang with steamed jasmine rice, kale curry and green chili sambal.
It was absolutely spectacular.  
Especially when paired with a glass or two, or three of the Durfort-Vivens Margaux.
A little cheese before dessert?  Why not. 
Sari putting the finishing touches on the perfect dessert presentation.
Next up, a glass of Sauternes.   They had us pegged as no one even asked before bringing glasses and the bottle.
My Walnut and dark chocolate tart with vanilla bean ice cream.
To die for.
And my delicious Pure Peppermint Leaf Herbal tea to finish this round. 
After our wonderful dinner, we moved back to our 1A and 2A, while the crew made our beds in 1D and 2D.  How wonderful to have the entire cabin.
After a visit to the lav to change, I slept like a baby for nearly 6 hours.   Alcohol and Ambien, a great combination.
After my sleep, my mid flight snack.   The Indonesian satay platter was delicious!
Time flies when you are having a good time.  Wifi worked well and I was able to do a little work and edit pics.
At T-90, breakfast!  What a gorgeous presentation.
The breakfast pastries were warm and wonderful.
For my breakfast main, I chose the Nasi goreng, beef sate with omelet strips, marinated fried chicken and sauteed vegetables.
What an amazing dish.  The fried chicken was off the charts.
Yep, that's what was missing.  LOL.
Almost there as we begin our descent to Jakarta.
And a perfect landing some 14 hours after departing LHR.
What more can I say.   This was absolutely one of the best flights ever.   Food and wine were wonderful.  The cabin was lovely and the seat very comfortable. But it is the cabin crew that elevates a flight from great to spectacularly great.  It is hard to imagine a better crew anywhere... an extraordinary balance of personality and professionalism, flawless service with meticulous attention to detail.  Never obtrusive, but there when you needed something almost as if they anticipated every need.   I can't wait to fly Garuda again.  Hopefully, when the new CGK terminal is open, they will start US service, offer more First Class flights to more destinations and use CGK as a connecting gateway to Asia.   Based on this flight, Garuda is clearly a top 3 in the world First Class product.