Etihad 787 First Class to Abu Dhabi
Washington to Abu Dhabi
Etihad EY 130
787-9 Dreamliner
9:10p-7:20p +1 (sked)
9:45p-6:55p +1 (actual)
February 16, 2016
First Class
Suites 1A and 2A
At around T-50, boarding was announced, directly from the lounge.   I originally selected 1A and 2A because 2DG were blocked.  In the end after we had boarded and settled, 2DG were available but we decided to stay in our single seats, ala Cathay First.
Our first look at the 787 Dreamliner First Cabin.   Interested mix of forward and rear facing seats.
Very nice, although the side single seats seem to have less room than the middle pair and a little smaller than the side 777 seats.
A happy Mrs. SFO.
And the Business Class cabin.  Doesn't look too bad if you're not in First.
​
Today's amenity kit.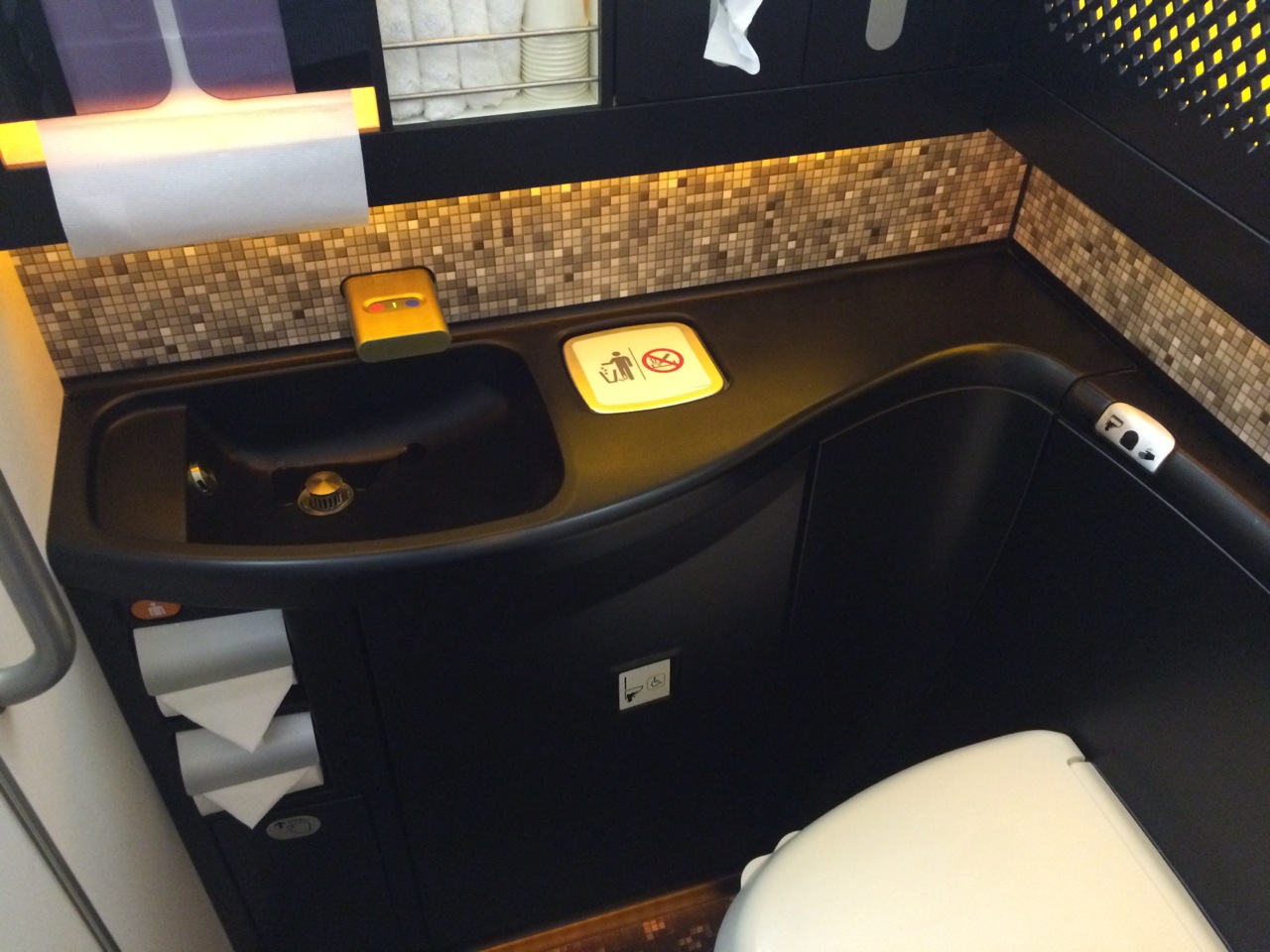 A glass of Bollinger to start the evening.
Tonight's wine list.
And menu.
Showtime.
Our amuse-bouche, salmon with creme fraiche.
The Mushroom Soup was fabulous.
And the Alaskan King Crab and prawns.
Our palate cleanser.
Tried the Chianti Reserva.  OK, this was either corked or simply ugly.
And the Oven roasted Lamb Loin.  After Chef Maria's build-up, pretty disappointing.  But the side of Fresh Tortellini was tasty. 
The decadent Chocolate Nougat Souflé was delicious.
After finishing my Bollywood fix, time to bed.
Even though I'd stupidlt forgotten my Ambien, this was one of the best in flight sleeps ever.  The extra humidity on the Dreamliner makes an incredible difference as I slept for nearly 7 hours.
Another meal?  Why not.
The signature Etihad Steak Sandwich was sensational.
Despite the late departure from IAD, we arrived early.  That was the good news.  The bad news is that the horrifically bad Etihad ground experience shows no sign of improving any time soon.  We've been relegated to a remote stand.   Ten minutes for the stairs to be in position.
Ugh.
Seriously, even Emirates has  First Class Bus.
After a cursory security check, we are in ancient Terminal 1.