Korean A380 First Class to Los Angeles
KE 17
ICN-LAX
A380-800
November 7, 2012
3:10p-9:00a (sked)
3:10p-9:12a (actual)
Departed only 3/12 in First
Seat 2J
At about T-50, I headed out for the short walk to Gate 10 and my first up close look at a KE whale. Not sure about those Korean Air colors though.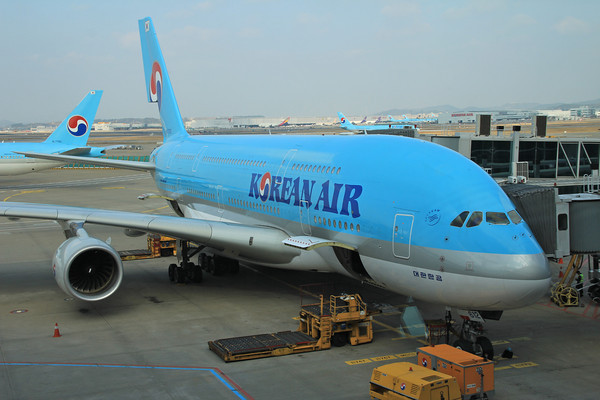 At least 8 GAs were scurrying around getting everything ready for boarding at T-30. And at T-30, as is now familiar protocol, all 8 stood facing the pax and bowed in unison. Pretty cool.
Boarding was a little confused even strange, starting with both Y pax at the left of the podium before GA opened the First line to the right of the podium. Don't know when they opened the middle Business line. All of this wouldn't have been a big deal if we could have boarded directly. But no, we all had to endure the ridiculous and useless secondary bag inspection. No priority inspection here... everyone congregates at the bottom of the ramp waiting their turn. Finally, I make the left turn down the F jetway...
First impression of the cabin is a wow! Talk about spacious. Some have commented negatively about the cabin colors and decor. It is certainly different but after absorbing it for a while, I've decided that I really like it. KE is one of the few airlines that has the F cabin on the main level. This means the cabin is substantially bigger and taller than 2nd level cabins like on Bling Air.
I had the cabin to myself for 5 minutes before the other 2 pax arrived, so was able to snap pics freely.
This panoramic video shows the entire cabin, including accidental bonus footage of quite possibly the most stunningly beautiful FA I have ever seen on any flight. And yes, she was working the F cabin. http://youtu.be/z7AoOIKBDAQ
The suites have three storage areas for everything from personal effects.
The curvature of the plane has produced a strange space between the seats and the cabin wall, used as ventilation.
Electronically controlled privacy divider can be raised and lowered at the touch of button on your seat control panel.
At least three FAs and our Purser stopped by to greet me, and made sure that my glass of Laurent-Perrier Grand Siecle was never empty.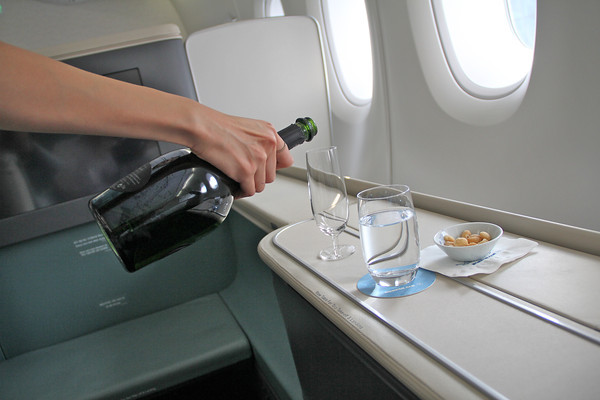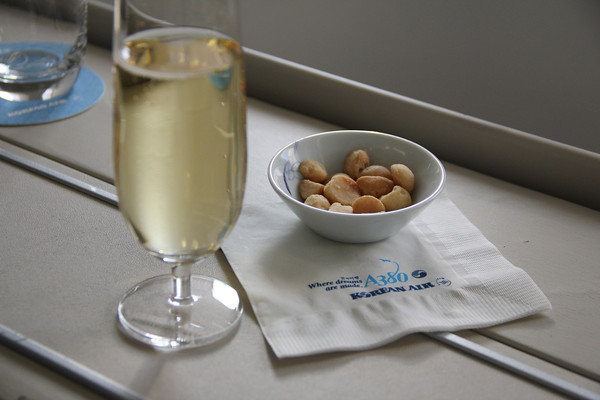 Boarding was completed on time, and we were ready to push. And with only two other pax in the F cabin, both on the other side in 1A and 2A, I had the entire right side of the plane to myself. 
One of the many great features of the A380 is the three live cameras, than you can "switch channels" and Change View. The tail cam and the forward landing gear cam were my faves. Some of the sequence from taxi to take-off.
Once in the air, my 4th glass of Grand Siecle.
And a quick tour of the forward cabin area including F bar
Stairway to the Business cabin, which is the entire upper level. I'll take the grand tour after dinner.
And basic lav. Only one lav for all 12 F pax. Was not a problem with only two other pax today, but on a full flight it could be.
Dinner
After drink service, and at the timing of each passenger's choice, a superb two hour 8 course meal.
All in all, a commendable wine list, much better than recent BA in fight offering. Not all the wine in this list were available on our flight, but the ones I tasted were excellent.
Showtime and yet another glass of Grand Siecle. 
The seared scallop and black mushroom with spicy orange sauce was very good.
Our set-up with each item precisely placed on the table.
FA knew enough to proactively suggest the Sauternes with my foie gras.  What a treat, the 2006 Chateau Rieussec was outstanding.
While I enjoy caviar, but I'll take a good foie gras any day. And today's champagne flavored fois-gras terrine with fig compote was positively sensational, especially paired with the Sauternes.
The Korean porridge was a mild and nutty flavored, more like a palate cleanser.
The organic seasonal organic salad was served to order from the cart, and was the best and freshest in flight salad I can remember.  And another glass or two of the Grand Siecle.
For my main, I was torn between the the Je-dong seared rib-eye or the Korean Bibimbap.  Hey, I can get rib-eye any day but Bibimbap, not so much. Our menu came with a Bibimbap instruction sheet.
Minced beef and seasonal vegetables accompanied by sesame oil and Gochijang (Korean hot pepper paste).  Was a little surprised about the tube of Gochijang and the oil packet, instead being served in a little ramekin.
The final product was terrific, and paired well with the excellent 2009 Ghost Block Single Vineyard Napa Cab.
One of the sides was a white fish that was simply orgasmic.
Next up, the cheese and fruit cart...
My turn.
Camembert, chaumes and comte, with a glass of the Sandeman Founders Reserve Porto.
And delicious fresh fruit.
And finally, Chocolate brownie cake and ice cream. Tasted as good as it looked.
OMG. What a terrific meal. Certainly ranks up there with the best inflight meals of the year.
IFE is not the same league as CX let alone SQ. I guess i's OK if you don't watch a lot of movies in the theatre. We do so there was nothing of interest that I haven't seen. Tail cam is still the best show on KE IFE, IMO.
Time to explore this puppy, starting with the FC Bar on the right side of the forward entry just back of 1R. Sounds like a great idea if you are traveling in a group, but not sure how much use it gets, since FAs will bring you anything anytime anyway. One of the FAs insisted that I try some of the candies. Good suggestion.
SFO777Jr and Short hair Francis will be happy to see the JW Blue.
Time to head upstairs and see how Business Class is doing.
Nice lounge area at the forward part of the cabin.
The entire upper deck is Business Class... maybe 30% load today. But what's with the lighting? Similar problem downstairs in F. How about using the dimmer to tone down the lighting just a tad and add a little more atmosphere, maybe something a little less than sun tan booth??
There is also a aft Business Lounge with bar and a few seats. Not nearly as nice as the Bling Air lounge.
Sorry, no pic. There were too many pax there and no obvious way to take an undetected pic.
Back at my seat, all the travel, food and booze is starting to wear my down and I passed out for 4 or so hours not even bothering with proper duvet and bedding. Unlike CX or SQ, there is no real time "Time to Destination" feature on the IFE remote, so when I woke up, I wasn't quite sure how long to go. And I couldn't remember whether I had changed my watch to LA time. Turns out we had about 3 and a half hours to go. Decided to freshen up and change out of my PJ's
Breakfast service began about two hours ago. I've had long haul breakfast on a lot of airlines and this was probably the best yet.
Each course was served by two FAs from the cart, allowing you to see your options. Yogurt with toppings was excellent.
This was the best inflight egg dish I have ever tasted. Freshly scrambled eggs on potato apple roesti with crispy bacon and cherry tomatoes. Simply amazing flavor and seasoning.
Just before we began our descent, I was offered a sweet Korean tea, complete with heart shaped fruit. OK, I'm hooked.
Great tail cam shots of our approach and landing on a foggy morning.
And our arrival at the end of the TBIT terminal.
Sadly, my wonderful 11 hour journey was over. KE needs to improve their ground game at ICN but once on board, they rank with the best airlines in the world. The cabin crews I met were second to none.
I was searching for a way to describe Korean FAs and concorde02 pretty much summarized my take... "beautiful, young, in-shape, dressed so nice, and friendly and polite at the same time". How very true. Of nearly 15 FAs I saw on my two flights, they were all female, young, attractive, slender, meticulously dressed, with perfect hair and make-up. Each was polite, caring and professional, yet still personable and able to laugh, smile and interact perfectly. Each of them genuinely appeared to love their jobs. What an absolute pleasure to share time with them.