Last April, an improperly loaded Myanmar exchange rate triggered one of the biggest mistake fare frenzies of the year. And as it happened just before a weekend, the fare was live for at least three days before airlines and in particular Korean Air realized a good chunk of their TPAC First Class inventory had disappeared. Forget that I lived 8,000 miles away. The US$254 one way First Class fare from Bangkok to LAX on Korean, including their new A380, was too good to pass up even if I had no idea whether I would have the time or, more importantly, Mrs. SFO would let me. The only fly in the ointment is that the fare requires that you start the trip in RGN. Minor details. I booked three trips... two one ways @$254 and a round trip RGN-LAX at the outrageous fare of $450.
When Korean execs discovered the carnage, they immediately cancelled all the tickets and refunded the fare paid. Enter the DOT, which had recently imposed new "you must honor mistake fare" rules. Within 10 days, and no doubt after discussion with the DOT and a few dozen lawyers, Korean agreed to reinstate all the cancelled tickets.
Now that Korean agreed to honor the tickets, I needed positioning tickets. And what better way to get there than Cathay First. Fortunately, CX had availability to match the dates I picked... in November, January and March.   So here we are. I booked random dates in months when I thought I had some time. Unfortunately, I forgot about the US elections. Turned out to be a wise choice as I now get to escape three days of wall-to-wall coverage and commercials. Plus I've already voted.
-United Economy Denver to SFO
-SFO International Terminal
-Cathay Pacific First and Business Lounge at SFO
-Cathay Pacific First Class SFO to Hong Kong
-Cathay Pacific Business Class Hong Kong to Bangkok
-Royal Slik Lounge at BKK
-Thai Econony Bangkok to Rangoon
-Yangon (Rangoon)
-Lounge Hopping at RGN
-Thai Econony Rangoon to Bangkok
-Korean First Class Bangkok to Seoul
-Korean First Class Lounge at ICN
-Korean A380 First Class Seoul to LAX
-American First Class LAX to Denver
UA 989
DEN-SFO
A320
November 4, 2012
6:00a-7:49a (sked)
5:55a-7:12a (actual)
Seat 21C (exit row aisle)
Mercifully, the change back to Standard Time made this a somewhat tolerable departure time. Wouldn't try this one with Mrs. SFO.
Happy with my exit row aisle and only 1 F seat open, I passed up my unknown upgrade position by changing my MP# to TK. TK gave me a status match to *G but won't send my card until I credit one flight. So this is the one that will give me NA UA/US/AC lounge access for the next two years.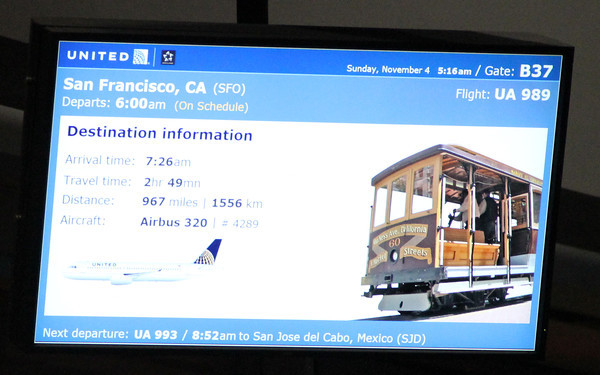 Uneventful, but wow on the exit row legroom. Way more than First on this sucker.
"Your priorities will always be ours." Sure they will.
Don't much like the airline, but the old CO livery is still OK, IMO.