Korean Air First Class Bangkok-Seoul
KE 654
BKK-ICN
777-300
November 7, 2012
12:15a-7:05a (sked)
12:15a-7:15a (actual)
Seat 1J
At about T-55, I decided to head down to the gate. In order to access the gate seating areas, you check in at the podium, where an agent scans the BP. When she saw my BP, GA escorted me to the roped-off SKY PRIORITY seating area, right in front of the door to the jetway, kicking out 4 scruffy Y pax who had taken it upon themselves to sit there. While we waited for boarding to commence, an elderly monk (older Dalai Lama type) in a wheelchair was escorted to the SKY PRIORITY area by a younger escort, who knelt and bowed down to him numerous times before taking his leave.
From the good side looking at the unwashed masses.
After the monk and 4 other wheel chair pax were pre-boarded, the two F pax were welcomed to board. KE regional 773 is a very tight 2-2-2. Fortunately, were only 3/6 tonight so each of us, including the monk, had two seats to ourselves. Wouldn't want to be in a full F cabin on this sucker.
Multiple FAs and the purser welcomed me on board and generally doted on all three of us until we went to sleep.
Multiple PD glasses and refills of Laurent-Perrier Cuvee Rose.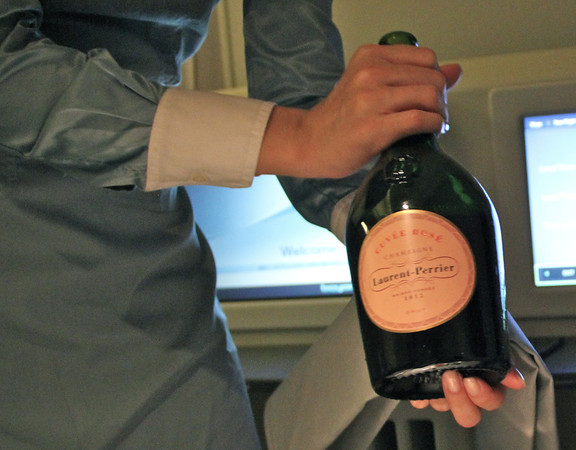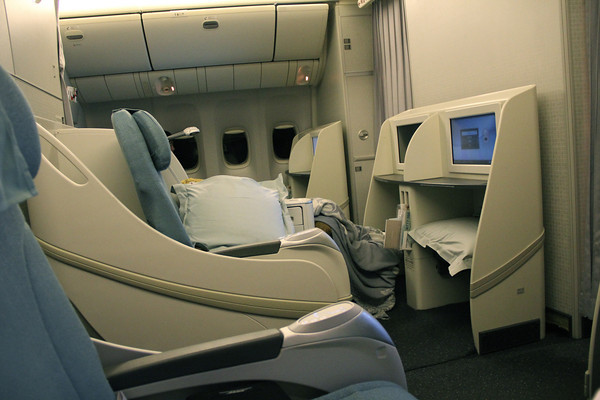 A word about KE FAs. On both of my flights, all FAs were female and under the age of 30. They were all incredibly polite and accommodating, meticulously groomed and dressed. Speaking of which, and this is by no means a bad thing... is it just me or do KE FAs wear skirts one or two sizes too small? Things that make you go hmmm.
In an amazing display of protocol and uniformity, our FAs positioned themselves at the front of each aisle (and cabin presumably) before the safety briefing and on cue, bowed in unison to the cabin.
I had been forewarned about the Breakfast only meal service and so it was...
But our FA recognized that some of us might be hungry and offered the option of "breakfast" immediately after take-off.
Since I had not eaten much this today, I requested an early breakfast.
Fortunately, breakfast was quite substantial and more like supper.
The chicken in pandan leaf with pandan chili sauce was outstanding.
After I gushed about the chicken, our FA brought a double order.
The egg noodle soup with squid and vegetable was sensational.
And fresh seasonal fruit was a great way to end the meal.
After a couple hours of sleep, a beautiful sunrise above the clouds, prior to an on time arrival at Incheon.