Air China Business Class to Incheon
We gave ourselves lots of time this morning and left the hotel at 5:30am which was really too early.   At that hour, there was very little traffic and we arrived at the airport in 20 minutes.
We were so early that the Air China counters hadn't even opened.  The counters opened promptly at 6am and since we were the first in the First/Business line, we were processed promptly at just after 6am.
After customs and security, we were in a pretty deserted international concourse.   Indeed, we were so early that even Starbucks hadn't opened.
Lounge signage leaves a bit to be desired here at there is no indication which lounges are for which airlines.  We tried the first First Class Lounge, which actually looked very nice but we turned away as it was not for Air China passengers.   Further down the concourse was the Air China lounge which paled in comparison.
Small and rather butt ugly.
With a weak selection of food, which was even worse than it looked since it turned out to have been from last night.
A nice empty wine bottle.
Apparently, they don't really expect passensgers to be here this early and the cleaning crew decided now would be a good time. 
Jr and I did a Starbucks run so we at least had something.
After the cleaners were done, then the staff replenished the food offerings, which was pretty much more of the same.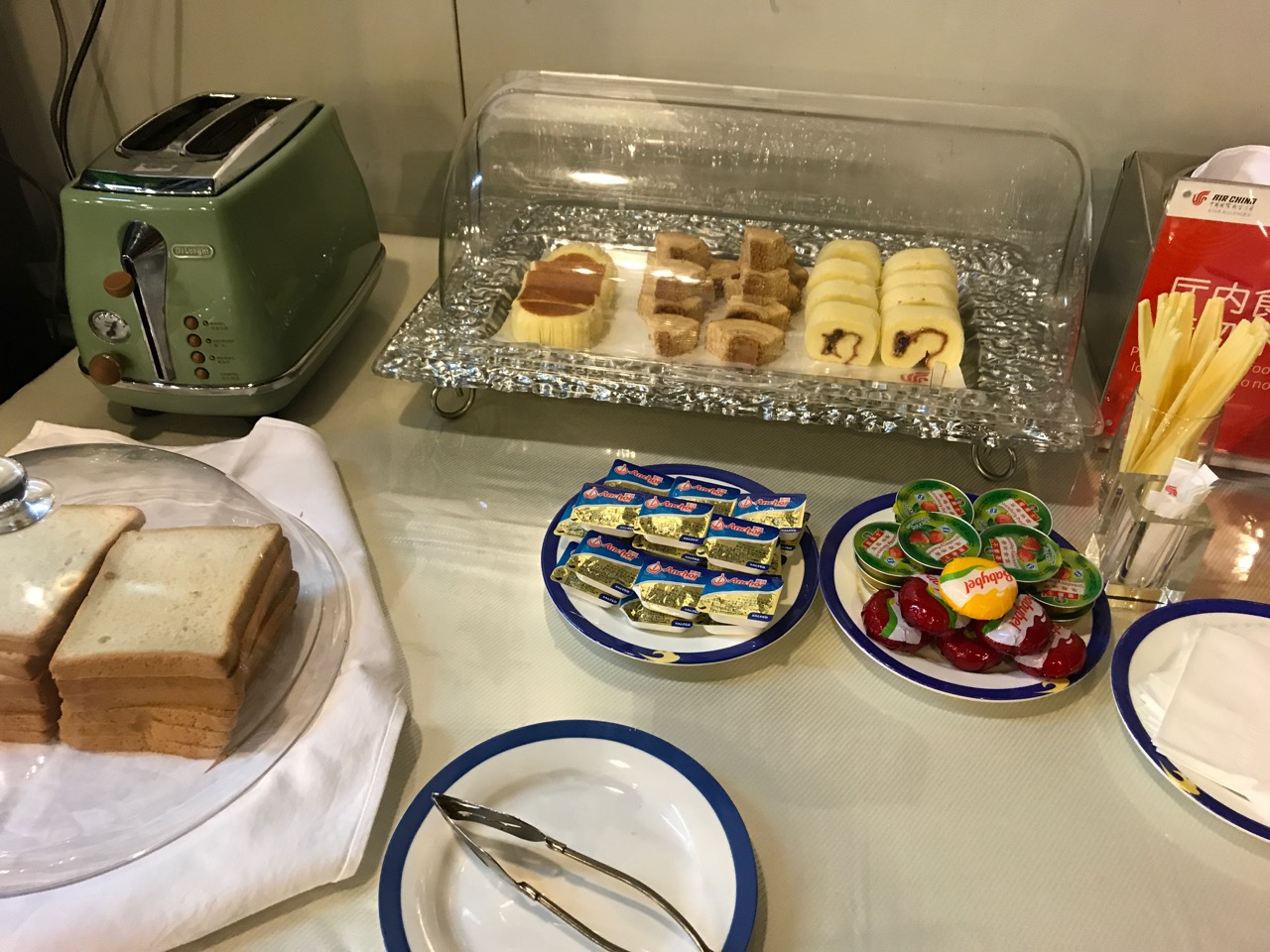 And now we have wine.
Yes, that's exactly what I think of when I go to the loo.  
One of the two small rooms off the main lounge seating area.
Chengdu to Incheon
Air China CA 401
A320
8:15am-12:40pm
October 22, 2017
Seats 2AC
Boarding began just after 7:45am and we were able to jump the queue by using the priority lane.
Nothing lie flat on this flight.  But the cabin was very nice and the seats quite comfortable for a 3 hour regional flight.   Even better that we had the cabin to ourselves today.
Service today was simply outstanding, starting with a Pre departure beverage.
With newspapers and magazines offered by our wonderful flight attendant.
Today's menu, which is used for lots of different flight at different times of the day.
Our choices this morning.
And the rest of the menu, for other flights.
Gotta love the translated description of the Black Tea...  "Suitable for weak people".  LOL.
Showtime, Air China style.
The champagne was pretty much awful but it looked good.
My omelet was delicious.
And my Green Tea.  No way was I going to order the tea for "weak people".  Ha.
We arrived exactly on time at Incheon, after a very nice flight and great crew.