Mrs. SFO begged off the morning after getting up at 2AM to watch the Trump Show. So I headed out to explore Oslo on foot.  
Hard at work right outside the hotel this morning. 
Perhaps it means something different in Norway.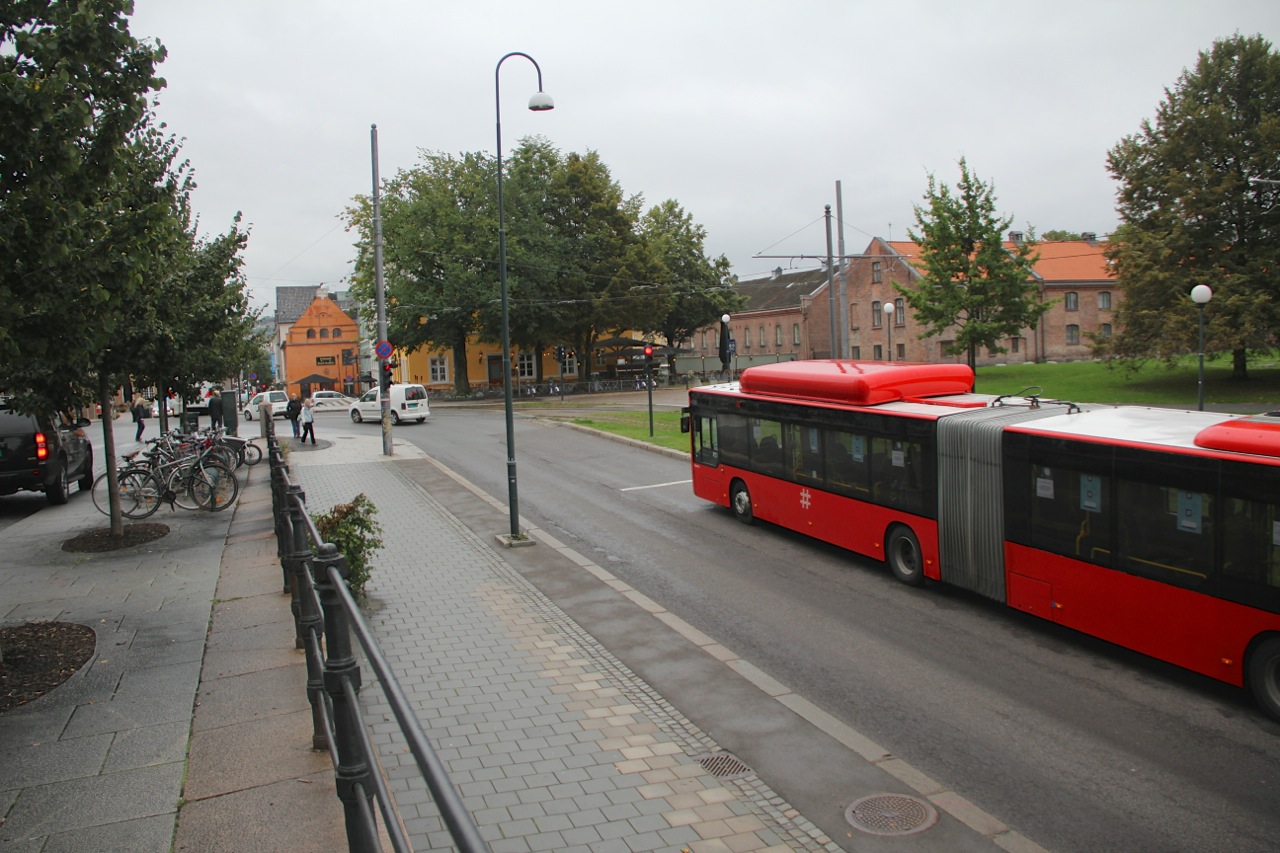 City Hall.
The Nobel Museum.
Royal Palace.
And back to the hotel, building on the right behind the National Theatre.
For lunch, our concierge gave us a great recommendation. Told him we wanted seafood and no tourists. I believe I said "no American tourists". LOL.
Gave us a great recommendation, Havsmak, only two blocks away near the palace and the US Embassy.
Indeed, there were no Americans. Actually no anyone. Other than a government function in the upstairs private dining room, we had the place to ourselves. Yikes.
Seemed a little strange but the meal and service were wonderful.
Mrs. SFO started with a beautiful fresh salad.
While I had the fish stew, which the concierge recommended as the best in Oslo. Shrimp, salmon, hake and mussels. Just the right amount of spice. It was sensational.
I had the delicious salmon main.
While Mrs. SFO had the main size fish stew. 
And yummy cobbler for dessert.
After lunch, Mrs. SFO suggested the HOHO bus which had a stop right near the hotel. Pretty much had the thing to ourselves for an interesting tour of Oslo and the Museum island.
Oooh, The Magic Ice Bar. We may try that later.
Interesting office complex on the way to the Viking Museum.
Always a sport. 
Back on the HOHO to continue the tour.
Oslo's stunning new Opera House.
We got back to the hotel around 6PM and shortly after headed out for dinner at probably the most uniquely good dining experience of the entire trip. Located in an upscale residential area, Hos Thea widely regarded as the best restaurant in Oslo. Chef/owner Sergio is a wonderful host and true showman as he works the small room like a master.
Mrs. SFO777 started with the wonderful Mozzarella ravioli with freshly steamed langoustines.
Small club sandwich with brioche, quail breast and foie gras. Out of this world especially with a glass of Sergio's recommended ice wine.
For her main, Mrs. SFO's chose the Iberico striploin on potatoes confit. Outstanding.
While I had the Norwegian farmed duck suprême with rose hip sauce. Quite possibly the best duck dish I have ever had. 
For dessert, Sweet temptations varieté for Mrs. SFO.
While I had the incredible Rhubarb tart with orange/cinnamon ice cream.
Wow, what an amazing meal. And then the fun part. Sergio comes over and we chat. From Spain, he has been in Oslo for 28 years. His dad and brother live in Texas. "My dad has 6 guns, doesn't know how to shoot any of them. LOL"  
No idea how we get onto this topic but he explains that Norway is 2nd only to California for Tesla ownership. Apparently, all vehicles in Norway are subject to 100% sales tax... except Tesla which is tax free because its electric and supposedly doesn't pollute the environment. LOL, but I digress. Also, Tesla owners don't have to pay highway tolls and get free parking. All of his friends have Teslas.  
Said Sergio, from the resto website.  
He then offered to drive us back to the hotel in his Tesla. He laughed when Mrs. SFO asked if he had to stay and close up. "I come and go when I want 
" Two minutes later he is outside in his white Tesla and we get it.
OK, this is a pretty sweet set of wheels. He grins and boasts that he can go 0-60 faster than a Lamborghini. And he then proceeds to show us, pinning us with G-force to our seats as he goes 0-not quite 60 in less than 3 seconds. Wow. "See I'm only in Standard mode. It goes even faster in Insane mode." 
Obviously we arrive at the hotel in no time. He declines our invitation to come in for a drink and we bid our adieus. What a great experience.
We then remember that we were going to go to the Ice Bar. So we head out for the 5 minute walk. OK, this is pretty funny. For $20 or so, you get the basic visit and a drink.
I'm guessing that the novelty has worn off. But for us first-timers, it was cool.