Mrs. SFO777 and I have had enough of the China virus lock-down nonsense and decided to visit SFO777Jr. and family in Denver this weekend.   It's been nearly six months since my last flight and I'm really looking forward to flying again even on United.   On the short drive to John Wayne up the always pleasant rarely crowded 73 Tollway.  Oddly, the morning clouds had not burned off by noon today.
We parked in the A Terminal garage where they were plenty of empty spaces.   Inside the terminal, eeriily empty and very quiet.
There goes that brilliant idea.  LOL.
OK, so that's where everyone is. 
Happy to have PreCheck.
John Wayne SNA to Denver DEN
United UA 554
A319
1:40pm-4:59p
July 23, 2020
Seats 2EF
Gate area was very relaxed with plenty of room for social distancing.  Gate agent reminded everyone that masks must be worn to board and in flight, and that we would be boarding from the rear.   Load factor today was just under 40% although all but two of the 12 First Class seats were occupied.   Boarding began promptly at T-30 with GS, 1K, active military and those needing extra time.   And then the rest of plane, rear to front.   With so few people there was plenty of spacing and we decided to board after the row 10 and higher announcement just to make sure there was no problem with overhead space.  Two flight attendants greeted everyone boarding and handed out packs of sanitary wipes.  My initial impression was wow, this plane is spotless.  Looked and smelled like cleaning crews had indeed cleaned the cabin including seats.  Even the floor was spotless.
Our isopropyl alcohol wipes.
And we're off with the always fun steep climb out of John Wayne.   With the sun finally out.
From reports I'd read, I really had no expectations about service of any kind, but I was really pleasantly suprised and amazed.  It helps to have a great FA and our Purser was wonderful.  Open bar service albeit with plastic cups which is perfectly fine these days.
And then the surprising Snack Box...
... which was much better than what UA served on this route pre-Covid.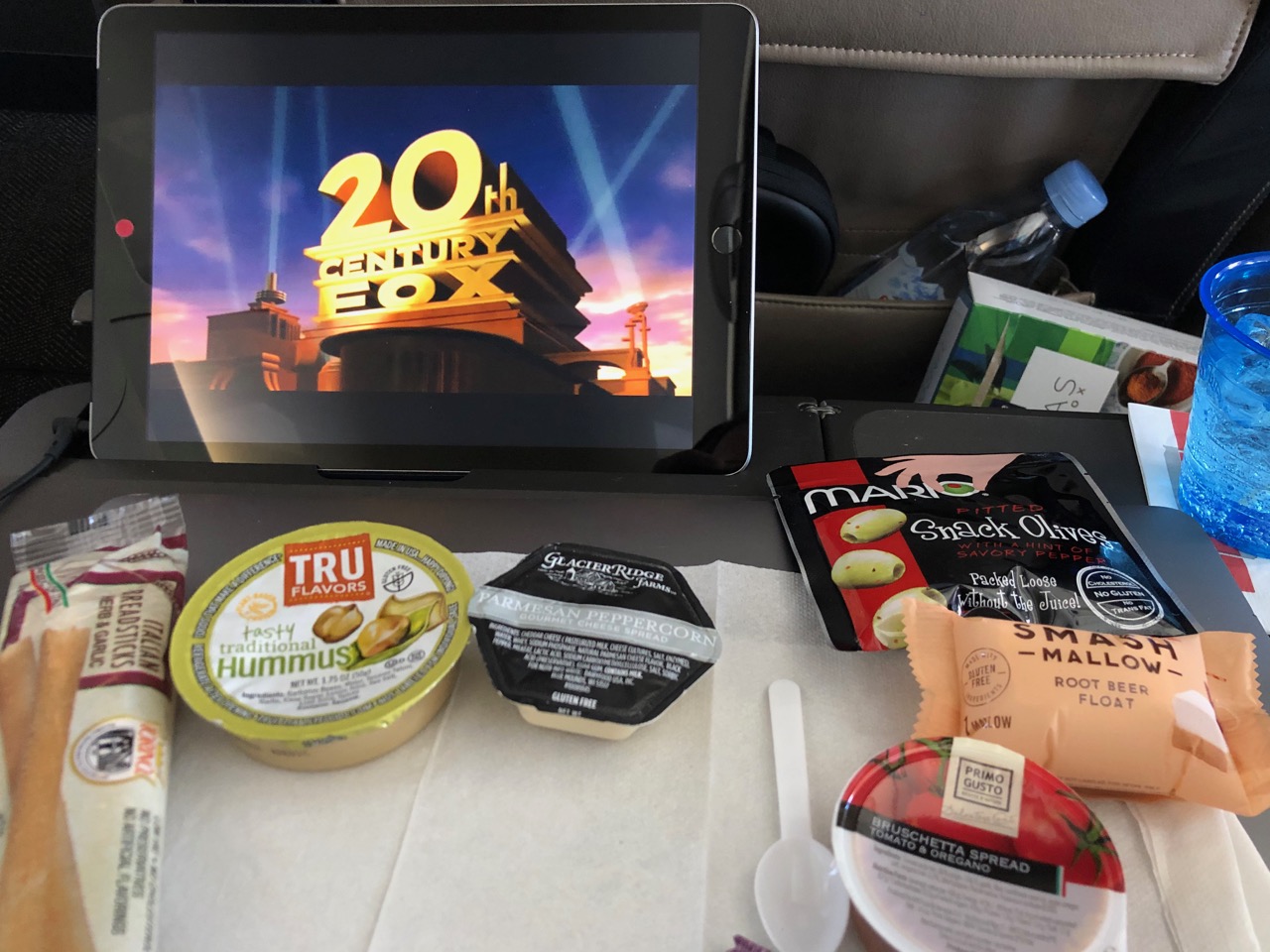 Time to check out United Wifi.  LOL.  Not at those prices.
We landed early but for some reason parked in the A gates which mean it took forever for the jet bridge GA to come over from B and connect us.  Deplaning was orderly front to back, with everyone asked to stayed seating until our row was called. 
We lucked out as our Avis bus pulled up as we arrived at the RAC island.
Yeah, not much action at Avis today with a rather empty Preferred list.
As Avis Presidents Club member, the cool Avis let me select my upgrade.  If you don't like the selection, just keep refreshing it.  Et voila, nice big Chevy Tahoe for our drive to the mountains.   Although it did take me a while to find the Y aisle.
We got to the kids' house and just after 6pm and relaxed before walking up the street to Tables, a very nice local restaurant.