Is there a worse airline than Air Canada?
Mrs. SFO777 and I are off today on our first visit to Israel.  We'll meet our SoCal travel buddies in Tel Aviv for 8 days of touring.   Unfortunately, our first stop on this trip is Montreal to attend a family funeral.  I've always hated Air Canada and still do today.  But it has the only nonstops from LAX, so today it won over jetBlue and a connection in Boston.  Naturally, we are departing the day after New Years, one of the busiest travel days of the year.  Although the 405 was clear, major traffic at LAX.     
We almost never check bags.  But the forecast of below zero temps in Montreal necessitated a winter wardrobe bag... and the need to stop at the Air Canada counter to drop off and check a bag.   Unfortunately, there was no outside bag drop that I could find, so we're forced to stand in line.  The pax in front of us either had complicated issues and/or the agents were simply clueless, but this line wound up going nowhere fast.  Fortunately, a competent staffer was manning the kiosks and she printed my baggage tag and directed me to the regular Economy line which had fewer people waiting. 
Air Canada recently moved from Terminal 2 to Terminal 6.   Unfortunately, that meant giving up a spacious lounge in T2 for someone's old dump of a lounge in T6.
​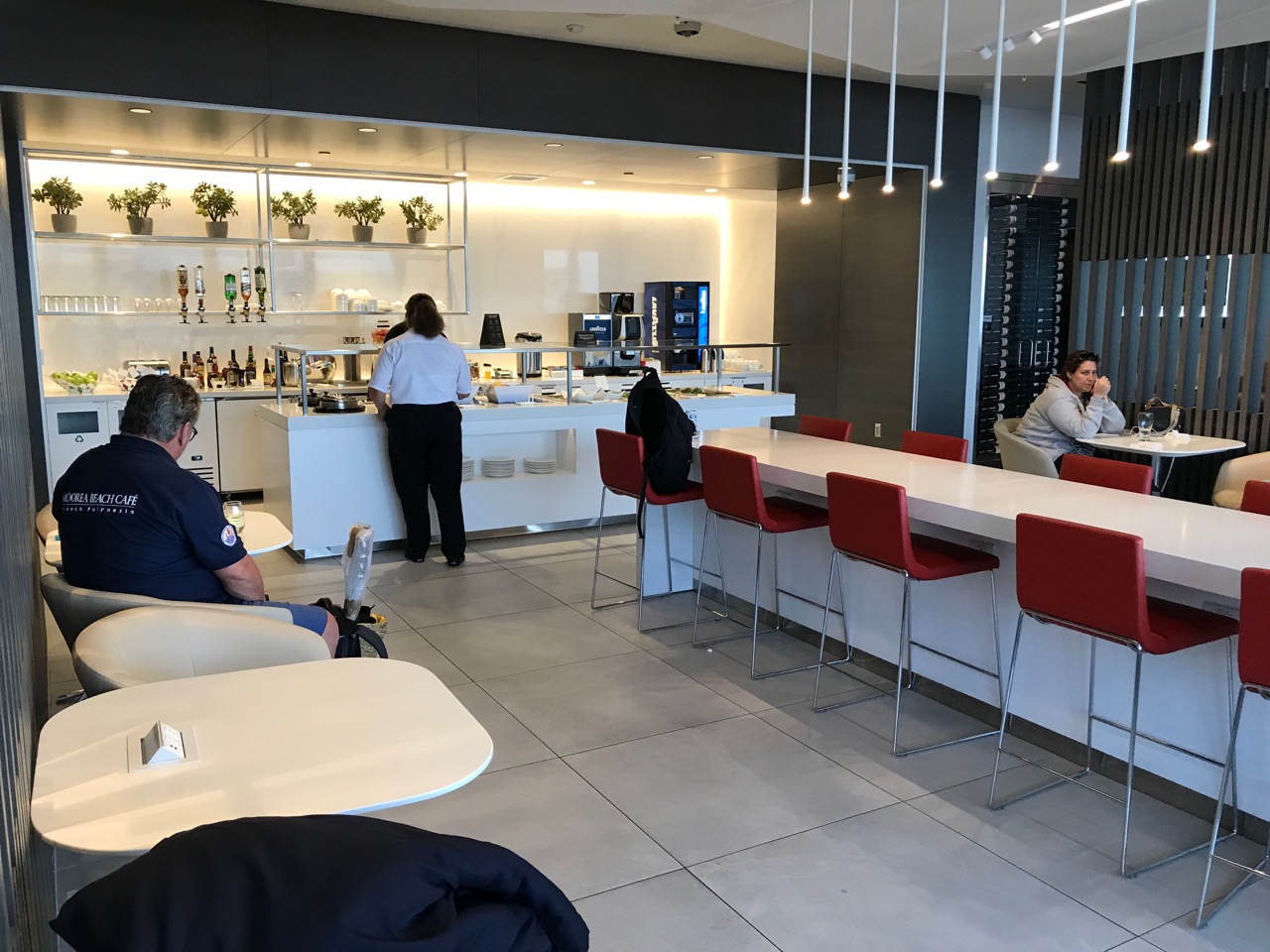 Food offering were garbage so we decided to eat on the plane.  What a bad choice that turned out to be.  
Mrs. SFO777 sent me on a mission to find her a Diet Coke.  For the life of me, there was nothing obvious.
Oh there it is.   Could they make it any more difficult to find?
Interesting warning sign.  I guess that some Air Canada pax are so hard up for crappy food, that apparently there's a theft problem at LAX.
At T-40, we headed for the gate.  
Los Angeles LAX to Montréal YUL
Air Canada AC 784
A319
1:00pm-9:05pm
January 2, 2018
Seats 3AC
As bad as the lounge was, the flight was even worse.
The tired old A319 Business Class cabin, with thin and uncomfortable seats.
Not only are the seats painfully uncomfortable, the cabin departed nearly full as it filled up with non-revs.  What started this morning as 3/14 left as the AC Employee Express at 10/14, Other than Mrs. SFO777 and me, there was only 1 other paying Business Class passenger.  EF showed J8 right until the end even after 10/14 seats were occupied. Well done AC.
And now the fun part.  This is a five hour 1pm lunch time flight and AC forgot to cater meals.  Seriously?  We had to raid Economy Bistro before they ran out. FA was apologetic and gave us a USD$15 food voucher. Not sure what good that does us at 30,000 feet. Funny thing was that we got a 2nd $15 in another name, persumably one of the non-revs.  Here is what lunch on a Skytrax 4 star airline looks like.  Think about this the next time you read airline rankings from Skytrax. 
Mrs. SFO777 had a few bites of the complimentary BOB chicken wrap and then went for the snack basket.
Yeah, that's a really healthy meal.
While the chicken wrap wasn't bad, the beef wrap was downright disgusting and inedible.
Our FA gave us compenation claim forms to fill out.  Like AC is going to give us anything.
Mrs. SFO777 trying to watch a movie while the non-rev's hair kept flopping on the screen.  
Mercifully the flight only lasted 4:25 and we landed in Montreal just a little after 9pm... to sub zero temps.