Trying to outrun the Nor'easter
With the detour to Montreal, we had to cancel tomorrow's LAX-FRA Lufthansa First Class flight and find an alternative.  Fortunately, there were two First Class awards seats on both the JFK-FRA and IAD-FRA flights.  I had opted for JFK since Lufthansa has a JFK First Class Lounge, and there are a lot more YUL-NYC flights than YUL-WAS.  Plus the flights are cheaper.   I opted for an 8pm Air Canada flight to LGA with an overnight before getting rid of our winter clothes at FedEx and heading to JFK.   WIth the rapidly detriorating weather, we decided to switch to the IAD-FRA flight and drive from LGA to IAD since the snow wasn't scheduled to hit until well after we would be in DC.  WIth a late check-out, we headed to the funeral planning to be back at the hotel by 5pm and then head downstairs for our flght.  
We were at the reception after the funeral when I got this message from Air Canada, advising that despite no snow scheduled until well after the return flight would have departed and landed back in Montreal, they cancelled our flight. 
Unfortunately, part of your itinerary has been CANCELLED. 
We have REBOOKED you on the flight(s) as indicated in your REVISED ITINERARY below.
CANCELLED FLIGHT:
-----------------
AC7642 
Montreal Trudeau to New York La Guardia
Departing: Wed Jan-3, 2018 at 20:00
Arriving: Wed Jan-3, 2018 at 21:27
-----------------
REVISED ITINERARY:
-----------------
AC7632 
Montreal Trudeau  to New York La Guardia
Departing: Fri Jan-5, 2018 at 8:35
Arriving: Fri Jan-5, 2018 at 10:02
Seats: 2F
-----------------
Loved that I'm rebooked on a flight 36 hours later.   LOL.
Back at the Marriott and with access to my computer is was clear that we couldn't make it to DC that night or even tomorrow for that matter as everything was sold out.   The only European option that night was Swiss and it was departing in 5 minutes.  I guess that's not an option.  Air Canada, ugh not them again, had Business Class award seats on tomorrow night's YUL-BRU 788 with an SN connection to TLV.   With that settled, we headed down to the lobby restaurant with our SFO son, whose YUL-LAS flight was delayed until 8pm.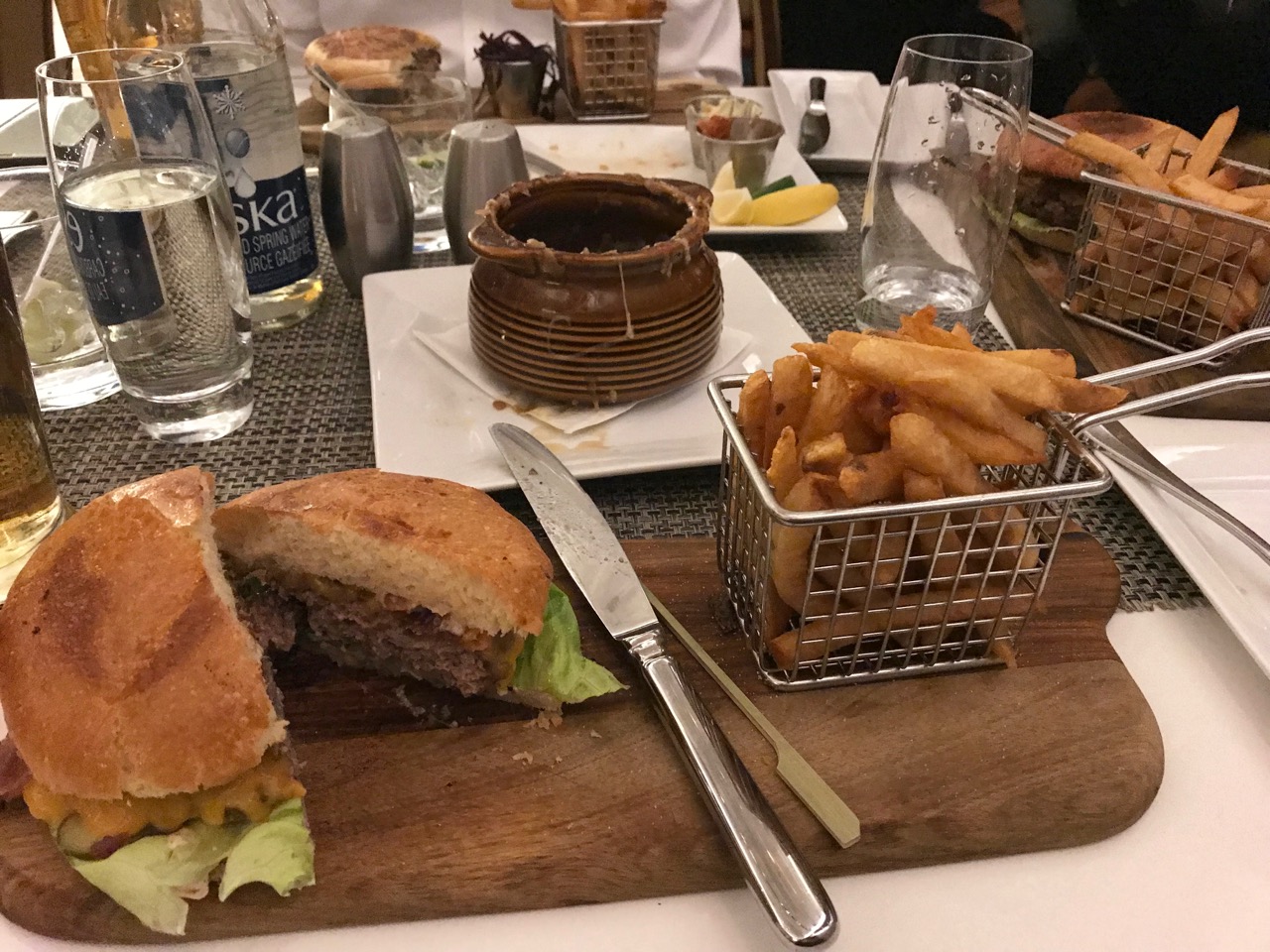 Next morning after planning to sleep in for our 7:55pm YUL-BRU, I saw that UA released 2 seats on their 9:50am YUL-IAD flight. and the exit row was available.  So I changed YUL-BRU-TLV back to IAD-FRA-TLV and we headed downstairs to check our "winter gear" bag, clear security and PreClearance.  At YUL, the only way from Preclearance to your gate.
Natiurally, someone eyes something she likes.
With a 60 minute flight delay, we passed on the AC lounge and headed for breakfast.
Oh yeah, that would be a no if you are heading to BOS, NYC or PHL.
Our inbound UAX flight finally arrived.
Montréal YUL to Washington IAD
United Express UA 4698
ER4
9:50a-11:30a (est.)
11:15a-1:10p (actual) 
Seats 18CD
Yikes. A little salt with your flight?
Meanwhile on the ground at IAD, no more snow but frigid temps and gusty winds made it feel even colder than Montreal.   No jetbridge certainly didn't help.
With our gate check carryon bags in tow, we walked all the way from A4 to B50 which is a pleasant walk in the only IAD terminal that is worth visiting.
And finally to the Luftansa Lounge where I dropped off Mrs. SFO777, while I headed for baggage claim and Avis.
OMG, it's cold here.  Naturally, every RAC bus but Avis passed by.   Then to nearby FedEx to ship our winter clothes back to CA.   And then back thru security to get the vacation underway,